Wednesday May 12
7:00 PM-8:00 PM
Ph.D. in Global Leadership Midweek Workshop Series
Leadership During Times of Change
The last of the live interactive events for Indiana Tech's Ph.D. students and alumni, as well as community and civic leaders.
Leading during a crisis requires making decisions to help navigate uncharted waters and meet unforeseen challenges. Indiana Tech's president, Dr. Karl W. Einolf, will share his perspectives on leadership during times of change while interactively working through scenarios that demonstrate leadership challenges.
Click here to access the session on May 12.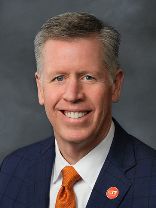 Presented by President Karl W. Einolf, PhD
President, Indiana Tech