2020 Alumni Awards
CPS Alumni of the Year
Ellen Brown BSBA 2005, MBA 2011, MSPsy 2018
"Every day on my drive to work, I pray for spiritual guidance to help me serve others. I take on a personal vow as a Warrior to serve our students and companies.  I share a vision with students when we meet, to "walk the walk" across the stage at commencement, and I will be there watching you. 'It doesn't matter how slowly you go as long as you do not stop.' Confucius."
Ellen Brown's dedication to Indiana Tech students stems from her understanding that their collegiate pursuits are all about what they want to do with them. It is about improving their quality of life, building their own opportunities and helping them to find their passions. "I've never been one to push someone to start a degree. Everyone has their own path and does it on their own time. We are not here to enable students; this is no longer high school. We are here to empower students."
Ellen recognizes that even though everyone has bumps in the road that can be difficult to navigate, Indiana Tech is always here; ready to change lives.  Her students understand this, and when the time is right, and they are ready for the challenge and commitment, they do reach back and begin the journey.
Students are always amazed at the life long relationship Indiana Tech offers through our career services and alumni association. This proudly gives value to the communities and the entire Indiana Tech family it directly serves in unity.
She is proud of Indiana Tech's focus on continuous process improvements of services and resources for students, faculty, and staff over the years. The reassurance and awareness, which all stakeholders important in all areas of Indiana Tech.
"It is astounding to be part of the added value being pushed out into our communities, organizations and companies we serve, reflecting through our students and graduates every day. I love listening to the stories people share with me, on how they apply their education and knowledge in their business lives."
"I think back endearingly on students who have come through Indiana Tech only to send their sons and daughters here because of their own experiences. We are changing generations and improving quality of life and sustainability."  Her warrior heart soars over this!
It is astonishing for her to hear student and graduate testimonials on what they have been able to do or accomplish because of their education and continued relationship with Indiana Tech, I have blessed to have the honor to be part of their journey to success. "One of the best opportunities in my life is when I found Indiana Tech. I am living proof that you can conquer fear, achieve, grow and you become a forever learner. Happiness is a choice, and Indiana Tech has brought much happiness in my life in so many ways. Go Warriors!"
"Now I just want to get them more involved with the alumni association!"
Graduate of the Last Decade (G.O.L.D) Award
Veronica Papach BSBA 2010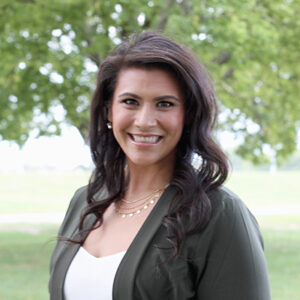 Veronica Papach grew up just outside of Chicago in Whiting, Indiana. She attended Clark High School where she excelled in basketball as well as other sports and was an active participant in her class being nominated to Vice President in 2001. Prior to visiting Indiana Tech she was looking for a university with small class sizes, but also a traditional campus experience where she could concentrate on her education and also have the opportunity to play basketball at the college level as that would be a dream come true. Indiana Tech fit the bill perfectly.
Veronica said, "Choosing Indiana Tech was an easy decision once I was able to visit and experience campus first hand. It felt immediately comfortable and not overwhelming, a place where I could learn and grow as a person, but also not get lost in the crowd or feel like a number."
During her time on campus, she met incredible people throughout her time at Tech. Now living on the east coast, she feels even more fortunate that her college experience took shape in the Midwest. The hands on approach to education, plus the opportunities she had with work/study, internships, classroom time, basketball and working part-time are all testaments to Indiana Tech and the authentic ability to understand that everyone learns differently. She reflects warmly that, "Indiana Tech truly takes the time to work with students to ensure they have all the necessary tools to be successful."
Only 10 years since she graduated, Veronica leads the Loyalty Marketing division at Audi of America in Herndon, VA. She is responsible for designing the strategy and directing the consistent execution of the Audi signature ownership communication experience through the customer journey at a national level. Veronica contributes to the overarching Audi of America customer relationship management strategy, identifying organizational alignment opportunities and overseeing coordinated customer management between all internal and external partners.
She also leads the vision and strategy for development of cutting-edge CRM innovation ideas that upholds the Audi brand image and improves the customer's engagement with the dealer and the Audi brand across multiple periods of a customer's ownership lifecycle. Additionally, Veronica leads the ownership communication content, messaging, execution, cross organizational integration, data modeling, customer data quality, data enrichment, and data integration.
Because of this experience, Veronica said, "I have passion for marketing even more, the passion I have for customer experience and brand loyalty is truly ingrained in who I am as a person. Loyalty and brand affinity is much more of an emotional experience than a transaction. The customer transaction is sets the expectation, but it is essentially my job to exceed those expectations throughout an owners lifecycle with our incredible vehicles."
"Love for a brand," she continues, "like anything, is a two way street and the first step in customer loyalty is setting customer expectations and then exceeding those expectations at every touchpoint." This mentality has followed her throughout her various career moves and continues to contribute to her success.
Volunteer of the Year
Jan Schilling BSME 1969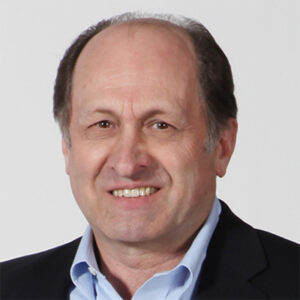 With a nudge from a teacher in his small town home in Ohio, Jan Schilling took a step in a direction that would help to pave the way for all of his success. He took a chance and as a first-generation college student, he found his home at Indiana Tech as he embraced a routine and mindset that would become a "bigger picture" mentality from then on. He worked in his classes, not as a student who was focused on the next test, the next assignment, or the next course. He was focused on the next stage of life as an engineer.
Upon his graduation in 1969, Jan started his career at General Electric Aviation in Evendale, Ohio and immersed himself into jet engine technology, learning everything there was to learn about the specifics of the engine he was working on. He mastered one aspect after another until he became a leading global expert in many areas of engine design, development and manufacturing.
"You have to dig in and figure it out yourself, then be able to put all the pieces back together."
30 years into his career, he was asked to lead the engineering team to design, develop, and certify the GE90-115B, the most powerful commercial jet engine in the world. This engine propels Boeing's 777-300ER and 200LR aircraft. To date, Jan has 63 engine component and system patents to his name on file.
Jan's eagerness to share his field knowledge and his life lessons with the next generation of Indiana Tech students are what has earned him this award. He is a true believer in the power of learning, of exploration of ideas, and application of experience. Jan's support of the university has taken many forms over the years. From guest lectures to seminars to scholarship support, Jan is more than deserving of his nomination for this award.
Zohrab Tazian BSCE 1960 Alumni
Hall of Fame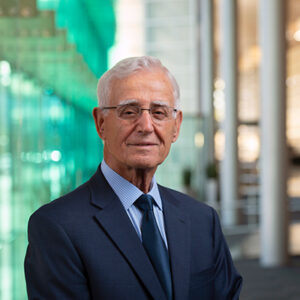 Born in 1931 in Armenian village Kheder Beg (now Turkey), Zohrab Tazian and his family were forced from their homeland and relocated to a refugee camp in Lebanon during World War II where he attended grade school. In 1945 he went to St. James Seminary in Jerusalem for three years then dropped out because of the danger of the Palestinian war.  After the war, he went back to Lebanon instead of the refugee camp joining his mother and three brothers in Beirut. His youth group director found a scholarship for him at the Sorbonne in Paris. Zohrab had to stay with his family to help support it financially and turned down the scholarship. In 1951, Zohrab and his brother started a family business and in six years increased the family income 15-fold. This business made it possible for him to finish high school and come to the United States. In the fall 1957, Zohrab came to the United States to pursue an engineering degree at Indiana Tech. Not long after his graduation in 1960, he started a Z.K. Tazian Associates, a successful civil engineering and land surveying business working on land developing projects for clients and his family. As a hobby rather than part of the business, Zohrab was asked to design the All Saints Armenian Church in Glenview Illinois, St Gregory Armenian Apostolic Church in Granite City, Illinois, and St. Nicholas Orthodox Church in Fort Wayne, Indiana.
Due to his unwavering affinity for and immovable dedication to his alma mater, Tazian was elected president of the Indiana Tech Alumni Board and was the alumni representative for the university's board of trustees. Then in 1970, Zohrab was tapped to become a full member of the board of trustees and has served for more than 27 years, during many of which he was the youngest member on the board.
Zohrab's long-time relationship with Indiana Tech stems from a friendship and partnership with a familiar name on campus in Ed Schaefer. Ed was on the board of trustees and held Zohrab's admiration for his academic and professional accomplishments. "His deliberations stood out. He approached education and his service to the college with a passion. I looked up to him as a father figure," he says in light of his own father's passing when Zohrab was 13 years old.
"Watching him gave me added incentive to work harder on the board and to approach nonprofit work with passion. He wasn't there for the honor and glory or recognition of himself, he was there to make things happen." Zohrab said of Ed.
Zohrab saw the school through some of its most difficult financial times when the board was looking at closing the school. Deeply moved by the words of Ed Schaefer, Zohrab and the rest of the finance committee raised over $400,000 immediately to pull the school out of danger. During that time as well, the faculty was considering a strike. Zohrab was asked by Dr. Williams (the faculty representative to the board) to speak to the faculty and the whole student body in the chapel asking them all to stay the course, which they did.
That was not the end of the challenges the university faced which required Zohrab's attention during Paul Seitz term as president of the board of trustees. Thomas Scully was the president of International Business College and a neighbor of Zohrab's. Zohrab told Mr. Scully how bad the financial situation was at the school, and yet Mr. Scully accepted the appointment as President of the University from the board of trustees.  Several months later, future university president Don Andorfer was brought on board to manage finances which brought relief and confidence to the administration. During that time, President Scully added night school for non-traditional students in reaction to the cessation of the GI Bill and the subsequent movement of students to Purdue University.
With that, there was new attention being given to humanitarian disciplines in business and entrepreneurial studies but Zohrab and other members of the board were not happy about the focus being taken away from engineering. A strong push advocating for engineering, a heartfelt plea of understanding, and an outstanding gift of $2 million later by Ed Schaefer brought stability to the university.
He continued to advocate for Indiana Tech through his role on the board of trustees and his dedication to the mission of Indiana Tech through the establishment of the Nicki & Zohrab Tazian Scholarship to assist students in the College of Engineering and School of Computer Sciences. Zohrab's philosophy in his support of the school lies in the words that his friend and mentor Ed Schaefer echoed years earlier, "I understand my position on the board to keep an eye on the administration and make sure things are going well."