50 Year Alumni Bios
Ron Kantorak BSME '70
Time at Tech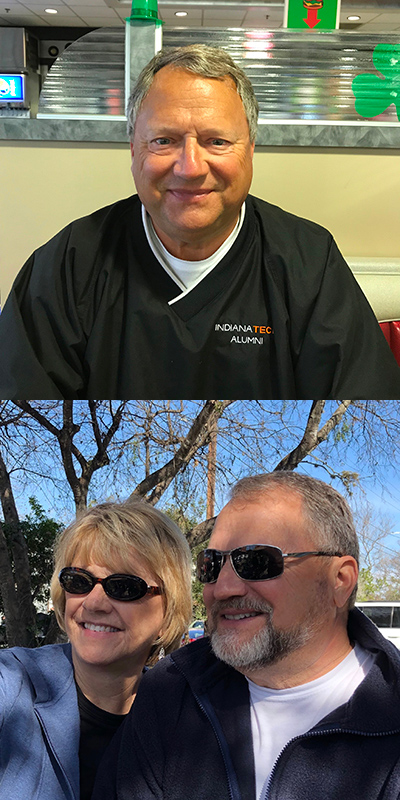 When asked to reflect on his time at Tech, Ron responded very flatly with, "there was a lot of studying during the week and some wild downtime on weekends." That was evident in the result of his priorities by receiving Dean's List acknowledgement during his freshman year and years to follow.
During the first quarter of his senior year, his draft lottery number (11) was pulled. "I'm going into the military" was all he was thinking at that point. He reported for his physical and was notified that in the following spring his student deferment would expire.
What responses the administration at Indiana Tech had to this news were some of the fondest of his career. Dr. Ivan Planck reviewed Ron's situation and allowed for him to schedule 27 credit hours during his winter quarter so that he would be able to graduate before the deferment expired. It was worked out that one of his courses for mechanical vibrations would be taught during the lunch session of a professor, whom Ron would warmly refer to as Uncle Oscar.
While he never got a chance to appropriately thank them for what they did to help him through, his appreciation is evident in his continued ties and love for this university.
As graduation neared, final exams were not required as they were optional for seniors. He was engaged at the time to his now wife of 50 years and already had a position lined up following completion of his degree. He asked Dr. Planck to mail him his degree to which Dr. Planck replied, "There's no way you are missing graduation…you will be there. I will not mail your diploma." To that, all Ron could say was a respectful and obedient "Yes, Dr. Planck, I will be there!" as response to all the generosity and flexibility that the staff and faculty afforded him during his time.
It wasn't all just books and studying for Ron, he was lettered in Track and Field and Cross Country. Beyond that, he was a proud brother of Theta Xi Fraternity. Even though the Kappa Delta chapter is now defunct at Indiana Tech, he still visits and stays in close contact with many of his fraternity brothers.  His time with the fraternity was certainly memorable and reminiscent of a familiar college film, "Animal House".  Even though it came out a handful of years after his time at Tech, he recalls his wife asking, with an air of remembrance, "Which one of your frat brothers wrote the script for this movie?"
While the fraternity houses were sold in 1974 and later demolished, Ron finds it ironic that in their place a church now stands at the premises on East Wayne Street.
Career
Ron's career found him quite regularly bouncing around the country to different major projects and ultimately landed him the opportunity to do some important and nationally recognized work. He started his career in Connecticut working for Combustion Engineering, Inc. in R&D on environmental control systems for large electric utility boilers and performance testing.  He received a job deferment because he was working on, as President Nixon declared, "A national priority".
After three years of traveling, he was assigned as the Principal Investigator on a FEPA contract at the Berry Steam Plant in Mobile, Alabama.  He was responsible for testing a Utility boiler before and after modification with an over fire air system, reducing NOx emissions.  Ultimately this system became the EPA's Best Available Technology and became a required modification on all Combustion Engineering's Tangentially Fired boilers.  Also, at his time at Combustion Engineering, he developed a design standard formula used to optimize the design of large oil fired utility boilers for lower NOx emissions.
Upon completing the field project in Alabama, he took a position with Cleveland Electric Illuminating as a boiler efficiency expert.  From there, he moved on and up through several positions of increasing responsibility to where he was ultimately responsible as Division General Manager for the Cleveland Electric Illuminating Co. and Toledo Edison Fossil Power Plants as well as fiscal oversight on shared ownership generation units with Ohio Edison and Penn Power.  Along the way, he went back to college and received an MBA in 1983.  With the Ohio Edison merger, forming FirstEnergy, Inc., Ron moved around heading up various areas of the company.  From selling the Fossil Generating assets of Cleveland Electric Illuminating and Toledo Edison, to Conversion Economics and Fossil Supply Chain, ultimately filling in for a year as Vice President of the Supply Chain.  He recalled that even though all of his career moves eventually moved him away from engineering to business, he was not one who could be challenged on his knowledge of the industry.
Ron retired from the industry early at 57 and recalls taking the retirement paperwork to his company's CEO who said, "You can't go… I won't sign it."
In addition to his career, he served as a representative to the Electrical Power Research Institute for 14 years and served on several committees with the Edison Electric institute over the years.
Life Beyond
After retirement, Ron still stays heavily involved with volunteering efforts in the Northern, Indiana Area serving as President of the LaGrange County Regional Utility District, and as President of the Pretty Lake Conservation Club, as an advisor to the LaGrange REMC board of directors, as well as serving on the Facility and Exhibits committee with Science Central and lecturing at Indiana Tech.
Recently, Ron tracked down the lost funds on the sale of the fraternity's twin houses following the close of Theta Xi and donated the funds to the Theta Xi Legacy Scholarship at Indiana Tech.  Ron was instrumental in getting his fraternity brothers to donate to establishing the scholarship which currently has a balance of $150,000.  Ron and his wife Cathy, also founded a scholarship in the name of their Great Nephew, Corporal Jonathan F. Blair, killed in action in Iraq in 2005. Ron enjoyed getting to meet the recipients of the scholarships and always appreciated meeting those who were "exactly the kinds of individuals who represent the scholarship and the ideals of those by whom it was established."
He and Cathy, his wife and a Fort Wayne native, celebrated their 50th wedding anniversary on May 23rd. He enjoys visiting his two sons and five grandchildren in Ohio and Texas and revisiting lifelong friends from his fraternity days.
He is especially proud of all the loyalty and dedication to Indiana Tech as it faced its difficult times in the 1970s, going down to the depths and bringing it back up to where it is now. He loves the engineering and sciences departments and while he considered an offer from Dean Aschilman for professorship, he declined only to take on a few lecture sessions from time to time throughout the semester to speak to the experiences he had as an engineer and the dynamic career it can provide anyone willing to step outside of their comfort zone.
Frederick J. Benn, III BSME '70
Career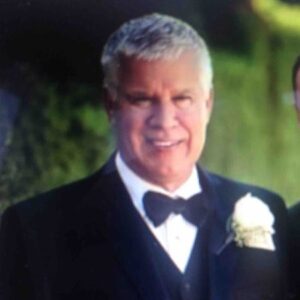 After receiving his degree in Mechanical Engineering from Indiana Tech, Fred began his career with "Automatic" Sprinkler Corporation of America where he served in multiple positions at their headquarters in Cleveland, Ohio. His first engineering position was in Research and Development designing sprinkler heads, valves, and other devices. He advanced into contracting as a Project Engineer, creating a program for designer development training, authored multiple manuals and other important program documents and outlines for "Automatic" Sprinkler Corporation of America, and moved into a management role where he worked in their National Construction Development department. From there, he moved out of the corporate office and into the field as a Regional Design Manager for the Midwest region and had the opportunity to be the corporate representative to Auto Sentry Sprinkler, LKD in the UK.
He was promoted to District Manager for the Chicago district office and was rewarded yet again for his hard work and dedication when he obtained the role of Vice President of the Western Region of the United States.
In 1985, he decided to open his own business, Advanced Automatic Sprinkler, Inc. in San Ramon, California, which solely focused on the residential fire sprinkler installation which, up to that point, had yet to be successfully done. His reach extended well beyond the Golden State as he promoted these sprinklers across the US. To date, his company has installed more than 100,000 sprinkler systems and has had more than 100 successful activations which saved property and, most importantly, lives.
He has shown his level of dedication to the industry by being involved in various committees and taking speaking and guest lecture engagements at conferences, seminars, and universities such as the University of Kentucky, the University of Maryland, Worcester Polytechnic Institute, Case Western Reserve, AWWA Western Seminar, NFSA International Conferences, and AFSA Seminars. Throughout his career, he saw (and continues to partake in) activity on an impressively lengthy list of local and national councils, committees, and associations.
Fred's passion for the industry, in which he no doubt has been a major influence, goes without question. He continues to contribute to the industry and educate the next generation of fire sprinkler leaders. He states that his work is not yet finished as he continues to dedicate himself to the belief that has become a fundamental standard that "fire sprinklers save lives."
Ron Richard BSCHE '70
Time at Tech

A Warsaw, Indiana native, Ron Richard furthered his academic pursuits at Indiana Tech. He stayed his first year in the "then-new" quadrangle, and was married his second year where he and his wife lived in an apartment the remaining years at Tech. While there, he worked in the student center mail room and with orientation programs at the opening of each semester. "I could tell pretty quickly who wouldn't last. One freshman had his father follow him around that whole first week of classes, the second he was on his own, and the third he was gone!" Ron laughed. Beyond that, he was a member of the glee club and was a member of one of the national chemical engineer organizations here on campus.
Career
Ron's career has been littered with leadership roles, publications, professional affiliations, and awards for service and dedication to his field. Following his years at Indiana Tech, Ron's early professional years involved a great deal of testing, problem solving, and training others to do the same.
The longest stretch of his career took place from 1980 to 1997 as he served as the superintendent of Chemical Operations at the Gibson Generating Station. There, he represented the stations interests in the design and construction of the Unit #5 FGD system, developing job descriptions for manning and filling those jobs, heading the station team in the design, construction, and start-up of the Unit #4 FGD system. In addition to that, he also was responsible for directing laboratory staff, and water treatment operating staff while acting as Station Radiation Safety Officer, Environmental Contact, Community Right-to Know Coordinator, and Spill Prevention and Control Coordinator.
He rounded out his full time career as Principal Engineer and SCR Catalyst Manager, administering a $60+ million catalyst procurement contract and working with teams to put SCRs into service.
While he accepted an early retirement from Cinergy in 2002, he currently works part-time consulting for RE Consulting as a Senior Consultant. Beyond that, he stayed very busy throughout and following his career in the field publishing and co-publishing nearly a dozen articles, proposals, and presentations for national recognition. He held positions in various capacities with affiliations including Vice Chairman of AIRPOL, membership with the National Association of Corrosion Engineers, and Vice Chairman of NACE Technical Committee T5F5 which authored the NACE Standard RP0292-92 entitled "Installation of Thin Metallic Lining in Air Pollution Control and Other Process Equipment." He had the privilege of presenting his papers in France and Italy. One presentation found him going as far as South Africa, which he said was one of the most memorable experiences of his life. The hotel in which he was staying was just outside the entrance to Kruger National Park where he and his counterparts were taken on a close encounter adventure with some intimidatingly dangerous creatures such as lions, water buffalo, hippopotamuses, hyenas, and leopards. "It sure made for some good pictures!" Ron shared.
The time during his career was highlighted with multiple awards including Cinergy's "The Power of Change" recognition, 2 EPRI Innovator Awards for "Ten Years of EPRI R&D Pays Off in New Scrubber Design" and "Pollution Prevention Program at Cinergy Reduces Hazardous Waste Generation", and EPRI First Use Award for "Adding Elemental Sulfur to FGD System Eliminates Gypsum Scaling."
Life outside of Indiana Tech
Life hasn't taken Ron and his wife of 52 years far from the Hoosier state for very long. They previously lived in Plainfield, Terra Haute, Owensville, and Princeton, before settling in South Eastern Indiana. They have two sons, one in Henderson, Kentucky and the other in Decatur, Illinois, both of whom have five grandchildren between them. Beyond that, he and his wife are heavily involved in volunteer and community work including work within his Methodist church which regularly visits John's Island, South Carolina to help those in need. He has held leadership roles in state and district committees of the Methodist Church, is Vice Chairman for Aging Council addressing needs for senior citizens in 5 counties, is Chairman of the Ohio County Emergency Planning Committee, and is currently in the vicinity of some 700 walking miles around his community as of late September.
Heinz Wegener BSEE '70
Career

After graduating summa cum laude, Heinz began his career with General Electric in Utica, New York, designing circuitry for military and space station receivers. From there Heinz and his wife Nanalee moved to Atlanta, Georgia where he worked in the Satcom Division of Scientific-Atlanta where he designed circuitry for satellite communications receivers and other satellite-related products. He was also manager of the Ground Communications Equipment engineering department managing new product design and standard product support.
In 1978, he spent a year designing radar receivers for Georgia Institute of Technology Research Institute during which time he also founded Wegener Communications, Inc. in the laundry room of his and his wife's home.
Wegener Communications grew to be a leader in the satellite communications industry and was 177th on the INC. 500 list of fastest growing privately held companies in 1986 and became a publicly traded company (WGNR on NASDAQ) in 1987.  Heinz managed the Custom Products Group, the Telecommunications Business Unit, and was responsible for initial implementation of JIT manufacturing techniques and the Total Quality Commitment (TQC) concept at Wegener.
In 1994, Heinz took a small division of Wegener private which is now Cross Technologies, Inc. and is now the president and owner. Cross designs and manufactures standard and custom products for the satellite communications industry to customers around the world.
Life Beyond
Beyond his professional successes, Heinz is a devout Christian who, seeing a need for businessmen to have an opportunity to come together for spiritual support, co-founded Norcross Fellowship Luncheon. He is a member of the Institute of Electrical and Electronic Engineers, a past member of the Executive Committee of the Southeast Council of the American Electronics Association and served as Chairman of the Southeast Council of the AEA in 1992. Along with that, he is a past member of the Board of Advisors of Technology Executive Roundtable.
He is an avid supporter of Indiana Tech having provided for the Heinz and Nanalee Wegener Worship Center in Andorfer Commons, making faith services more accessible to students on campus. Additionally, they also contributed to establish the Heinz and Nanalee Wegener endowed scholarship.
He and his wife were married at the end of his freshman year in 1967 and have enjoyed travelling the country sharing their faith through career, philanthropy, and interactions with others. In 2013, Heinz was inducted into the Indiana Tech Alumni Hall of Fame for his undying generosity to, support of, and affinity for Indiana Tech.
Bill Barber BSEE '70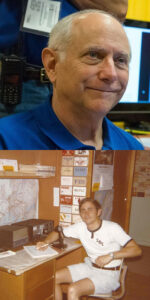 Bill Barber's interest in science and technology began at a very early age which led him to pursue an education and career path in that same realm.
As his days at Indiana Tech neared, the space race was well underway, the Russians had beaten the US into space with Sputnik, and NASA's Vanguard rockets had failed. Bill and a group of his friends joined up to launch rockets and to study astronomy. Three years later he was introduced to Civil Defense and RACES radio communications during the tense combination of days of the Cold War and the Cuban Missile Crisis.
His first radio license was the "Restricted Radiotelephone Operator Permit," granted him in 1960. This license allowed him to operate Gonset "Gooney Boxes" in weekly drills. With his interest in shortwave and ham radio, he advanced to the Amateur Extra Class license.
He enrolled in Indiana Tech and earned a BSEE in 1970. His early interest in radio communications continued at Indiana Tech and at the ham club station, W9BHR, in Sihler Hall.
Following graduation, he began a 39 year career with Motorola. One of his early assignments was to build the first two cellular sites in New York City in January 1973. He was handed two prototype cellular phones and was sworn to secrecy until the official press conference that April. That also required coverage testing of a then-unique synthesized 365 channel full duplex 900 MHz portable telephone in the urban canyons of New York. On April 3rd, Martin Cooper, the inventor of cellular communications, successfully demonstrated that DYNATAC portable phone to the media at the New York Hilton. And with that, a new industry was born!
He began as a Field Service Technician and held positions in Systems Engineering and Engineering Management, retiring from Motorola in 2010 as a Distinguished Member of the Technical Staff.
"It was a great ride with a great company!" Bill reflects warmly.