60 Year Alumni Bios
John T. DeGeorge BSAeE '60
Life at Tech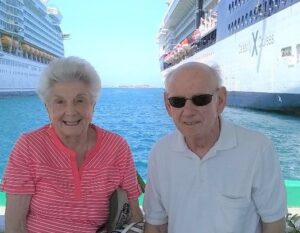 During his time as a student, John held the position of secretary in I.A.S., served as chairman for the Publicity Committee, and was a member of the bowling club. Even from well before his time as a student, his wife Cathy mused that the only love of his life was planes. It was a natural choice for him to pursue a degree in Aeronautical Engineering.
During his undergrad years, one of the most memorable and impactful individuals at Indiana Tech was Professor Benjamin Dow.   Professor Dow was a colleague of Dr. Werner von Braun, Director of The Marshall Space Flight Center in Huntsville, Alabama.
Throughout John's career, he regularly shared space with engineers holding degrees from Cal Tech, MIT and other prestigious universities but never felt that his education was inferior to theirs. He prides himself on the education he received here at Indiana Tech.
John's career began in Azusa, California as a general engineer with Aerojet General working with underwater torpedoes. Shortly after that, he moved to Northern American Aviation to work with the Apollo project and space program. He continued his career by joining Grumman Aircraft, Bethpage, NY where he worked with the Lunar Excursion Module designing the forward heat shield. He worked with many astronauts throughout his career, including Buzz Aldrin, and was in direct contact to provide technical support with the command post as well as astronauts during their space flights.
Most notably because of that work, John's name can be found etched in the relics of history as it was included in the time capsule which was placed on the moon during Apollo 11 mission.
Following his time in New York, John's career led him back to the west coast for the longest stretch of his career with the Northrop Corporation as one of Jack Northrop's "100 best." John was selected with eleven other engineers in the structural and aerodynamic fields to design the top secret B2 bomber project.    He spent his time working on the B2 Bomber from its inception to the first flight.  That experience afforded him the opportunity to work with Dr. Werner Von Braun.   For 12 years, he worked in a top secret facility on the project.   John was also involved in designing the F14 Tomcat fighter jet and other high profile Navy and Air Force Aircraft projects.
Throughout that time, he attended post graduate classes at the University of Southern California.
Life Beyond
A proud Korean War veteran, John retired from Northrop in 1995 and, with his wife, Cathy, of 67 years, presently resides in Sarasota, Florida near his son and daughter-in-law. He lives a quiet and private life, but is extremely proud of his engineering accomplishments and is surrounded by his commendations and accomplishments, his college graduation picture, and his BS degree in Aeronautical Engineering.
Hank Caso BSEE '60
Life at Tech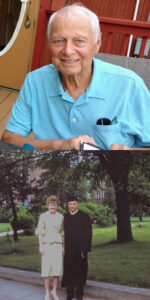 After graduating from Camden High School in his hometown of Camden, New Jersey, Hank Caso enlisted in the United States Air Force for four years. Following his enlistment, he applied to Tech on the GI Bill recalls that one of the things he appreciated most about the university was how well the staff and faculty eased the transition back into the classroom environment for himself and several other ex-military students.
Hank Caso's first 6 months at Tech found him taking up residence at the YMCA in downtown Fort Wayne. Living there made it a nice short walk to his Chem Lab class since the lab was located in the building right across the street. For the rest of his time at Tech, he and 2 other students shared an apartment near the corner of Washington Blvd and Lafayette Street where a hotel now occupies that space.
He vividly recalls an incident involving a fellow student and an unfortunate mishap during a test. Right in the middle of the exam, a student dropped his slide rule, rendering it useless for the duration of the test.
Career
His professional endeavors started out in Cambridge, Ohio as a test engineer on the Minuteman Program. From there he spent four years in Kokomo, Indiana with Delco Radio Division of GM as a Project Engineer for a digital test set, which he delivered to JPL in Pasadena, California, and he later served as the Project Engineer designing a Digital Plating Control System for the Ternstedt division of GM in Kokomo.
Hank's longest stretch of his career, and arguably most notable, took place at Magnavox here in Fort Wayne, Indiana from 1966 to 1993 working on various Navy and other military programs. There, he served as Lead Engineer for the digital portion of the LORAN Navigation System, for the US Navy and as Program Manager for AN/BRN-8 Satellite Navigation System used on U.S. Navy Trident Submarines. He was also the Program Manager for the Digital Audio Distribution System for U.S. Military Aircraft. Rounding out his career, he served as Engineering Department Manager from 1985 until his retirement in 1993.
During his time at Magnavox, Hank noted that there were many Tech grads with whom he was working and that all of them represented Tech very well. Included in that group was a familiar face now in the Zollner Engineering Building, Dave Aschliman with whom Hank had a lot of direct contact. Hank states, "It was a good experience, and doesn't surprise me that he is a dean at Tech!"
Life Beyond
His decision to move to Indiana from New Jersey had a profound impact on his life, resulting in meeting his wife Janice of 59 years. They were married May 20, 1961 and have five children and five grandchildren. They currently reside on Crooked Lake in Angola, Indiana which keeps them both very active.
Delmas R Buckley, Jr. BSEE '60
Career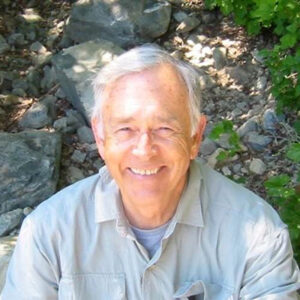 After graduation, Delmas R. Buckley, Jr., more familiarly known as Robert, worked as a "logic designer" in the computer field from 1961 to 1980. During that time, he pursued a law degree and was admitted to the California State Bar in 1979. Following his stint as an engineer, Robert worked as a sole practitioner and then made partner working with his firm until 1991. He rounded out his law career as an associate and sole practitioner as a U.S. Patent Attorney from 1991 to 2015.
He is now retired living in Livermore, California.
Donald G. Henderson BSMTH '60
Life at Tech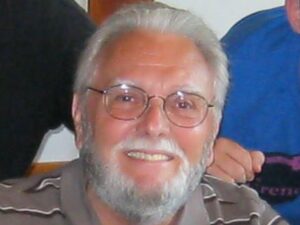 As an undergraduate, Donald Henderson split a majority of his time pursuing a degree in Electronics Engineering, and helping to coach basketball with Murray Mendenhall. However, as things often do, that course for his professional interests changed drastically during his final year of his collegiate career. Up until the final quarter before his graduation, Don (who was Kappa Sigma Kappa president at the time) was set on his way to a degree, but that changed under the influence of Dr. Ralph Young, a mathematics professor with whom he clicked greatly. It was under his guidance that Don determined it best that he switch his major to mathematics. To help soften that transition, Don was given a bit of a deal in which he would receive graduate assistantship that would only lead him to more success down the line.
Once he completed his undergraduate degree, he took to Ball State to complete his Master's only to return to Indiana Tech to teach Mathematics for a 2 year stretch.
Career
The bulk of his career was spent with CAS, Inc in Huntsville, Alabama. In his 28 years there, he worked his way up to Senior Vice President before retiring in 2008. What led him to that position were various technical, managerial, and executive functions at Teledyne/Brown Engineering, Northrop Space Labs, B-K Dynamics Consultants, Computer Sciences Corp., and MITRE Corp in McLane, VA and Bedford, MA. To help round out his professional qualifications, he took additional graduate courses at Ball State, Michigan Tech, UCLA and University of Alabama Huntsville.
Life Beyond
In his retirement, Don enjoys spending some of his time doing consultation work but much more so enjoys watching his youngest grandson play college baseball and his other son's lives take off into their careers after finishing their college degrees in engineering and computer sciences. Up until the coronavirus shut things down, he enjoyed travelling quite extensively.
Upon reflection of his fond memories during his time at Tech, even 60 years ago, he shared that he is grateful for his experiences at Tech, both as a student and an instructor. He reflects that he had many outstanding professors, instructors, administrators, and coaches and is thankful for the relationships with built in Kappa Sigma Kappa and Theta XI and the many friendships with students, many of whom were veterans, in the 6 years he was at Tech.
Zissis Kalivas BSEE '60
Time at Tech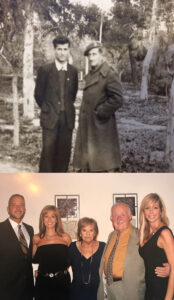 Zissis Kalivas graduated from Indiana Tech in 1960 with Bachelors in science in electronic engineering. Throughout his years of learning at Indiana Tech, Zissis greatly enjoyed his two years learning there. He especially enjoyed the people he met as well as the professors he had the opportunity to learn from.
Career
Two weeks after his graduation, he started working at Sorenson, a unit of the Raytheon Company, and was promoted to research engineer in 1962. In 1967, he changed jobs and started working at Warren Communications as a senior engineer. Five years later, in 1972, he became a project engineer at Lorain Products. He currently has 5 patents from the United States. After he finally decided to retire in 1997, he shifted priorities to his family.
Life Beyond
He currently has 3 children, 5 grandchildren, and 2 great grandchildren whom he loves very dearly. Even in his older years, he still enjoys traveling to Greece, spending time with his loving family and wife whenever he can. He still enjoys sharpening his mind as well, as he enjoys learning new languages such as Spanish and Russian. He has grown into a man that many look up to and a man many respect.
Gerry Knepp BSME '60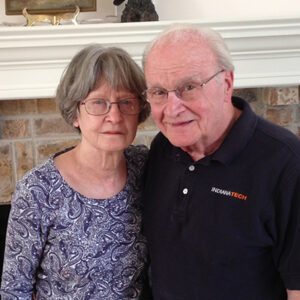 Gerry Knepp graduated from vocational school in 1952 as a machinist apprentice at 17 years old and immediately joined the navy.
The ship Gerry was on was named The Wasp….. While aboard The Wasp, he was assigned as Machinist Mate and worked with the ships steam turbines, pumps and other equipment associated with the engine room. This was during the final year of the Korean War. After discharge, he went back to take all the courses needed for a college engineering degree.
With the GI Bill, he enrolled at Indiana Tech in Mechanical Engineering. Before leaving for college, Gerry married his wife, Merlyn, who worked as an RN at the Fort Wayne School while he focused on his studies.
In his time as a student, Gerry was active in the Mechanical Engineering Club and Interclub Council, and served as president in both. As president of the Interclub Council, he worked with the president of the fraternity club to develop and create the first science fair and carnival on Indiana Tech's campus.
Upon his graduation, Gerry worked his way up to manager of the Kathabar division for Surface Combustion. From there, Gerry moved to Leprino Foods, the largest producer of mozzarella cheese in the world, as Regional Engineer. He was promoted to manager of Design and Construction at a new $500 million plant and remained there until his retirement at the age of 70.
In retirement, Gerry and Merlyn moved to relax and enjoy life in Tennessee. Gerry went back as a consultant whenever needed for another two years, finally retiring for good at 72.
Early in their life together, they adopted two children: Chip, a chemical engineer, and Jill, a teacher and principal, and are members of the Lions Club and the Monroe County Friends of Animals. So far they have fostered more than 100 puppies/senior dogs that were then sent to northern states. They recently sold their home and now share their condo with their two older dogs Gracie and Kody.
James H. Anson BSME '60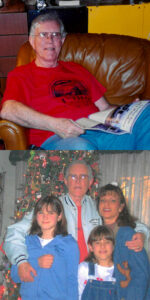 By the time James Anson reached his freshman classes at Indiana Tech, he had already obtained a lifetime of experience and accolades in his three years with the United States Army. He completed his basic training with the 101st Airborne Division at Camp Breckenridge, Kentucky. From there he was moved to Engineering Officers Candidate School at Fort Belvoir, Virginia where he was commissioned as a Second Lieutenant in November of 1953. He was also an Honor Graduate and was the Physical Fitness and Military Aptitude winner of Class 60.
Jim was assigned as Junior Tactical Officer of Class 73 at Fort Belvoir until May of 1954. From there he went to South Korea with the assignment of Platoon Leader in Company C, 11th Combat Engineering Battalion. After a short time, he was assigned temporary duty at 36th Combat Engineering Group Headquarters. He and 3 other Second Lieutenants from West Point set the criteria for and started up a Non-commissioned Officers Academy to train competent enlisted men to become NCOs. He was assigned as Platoon leader Company A, 11th Combat Engineering Battalion and served as Company Commander for 1 month prior to leaving Korea in 1955 and being honorably discharged in November after receiving a First Lieutenant status in May of 1955. By the end of his duty, Jim was awarded the Good Conduct Medal, the United Nations Service Medal, and the Korean Service Medal.
Three weeks after his service was completed, Jim and his wife were married. A month later, January of 1956 in New Philadelphia, Ohio, he took a position with Joy Manufacturing Co., the world's largest producer of mining equipment as a senior draftsman. Staying only a couple of years, he left Joy, to attend Indiana Institute of Technology to study Mechanical Engineering.
"I had 27 months available from the GI Bill and IIT offered year-round school. While at IIT, I worked for States Engineering Corporation in Fort Wayne as a Draftsman designing foundry equipment," Jim recalls.
He spent those months diligently studying to complete his studies and graduated Summa Cum Laude with a B.S. in Mechanical Engineering and was recognized as top engineer in his class.
With a degree in hand and a new baby daughter at home, his professional life took shape following his graduation as he took a product development engineering position with  Goodyear in St. Mary's, Ohio for 2 years.
From there, John and his family moved to Sangamo Electric Co. in Springfield, Illinois before settling for nearly 20 years in Auburn, Illinois to assist in the startup of and his employment with Dickey-John Corporation. There, he served as Senior Vice President of Engineering Research and Development.
He finished out his career moving back to Springfield for another 20-year stretch, this time with the ever-familiar Bunn-O-Matic Corporation, serving as Senior Vice President in Engineering Research and Development until his retirement at age 75.
When all was said and done with his professional endeavors, Jim has been awarded more than 40 patents on mechanical and electro-mechanical devices. For all of his successes he has seen, he credits Indiana Tech, the United States Army, his parents, and his wife Marilyn, who passed away in March, for giving him those tools for his chosen profession.
Zohrab Tazian BSCE '60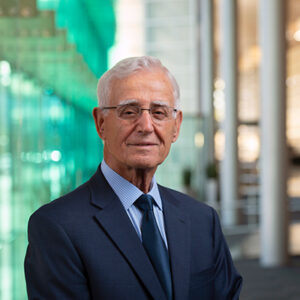 In 1957, Zohrab came to the U.S. to attend Indiana Technical College – Indiana Tech – to pursue an engineering degree. After graduation, he went on to start a successful civil engineering and land surveying business, Z.K. Tazian Associates, Inc. During his illustrious career, Zohrab designed the All Saints Armenian Church in Glenview, Illinois, St. Gregory Armenian Apostolic Church in Granite City, Illinois, and St. Nicholas Orthodox Church in Fort Wayne, Indiana.
In 1968, he was elected president of the alumni board and was the alumni rep for the university's board of trustees. In 1970, Zohrab became a full member of the university's board of trustees and has served for more than 27 years. As a 1960 BSCE graduate, he has remained a staunch advocate for Indiana Tech and in 1993 established the Nicki & Zohrab Tazian Scholarship to assist students pursuing a degree in the College of Engineering and School of Computer Sciences.
Zorab has four children – Tina, Ara, Hera and Sona – and four grandchildren.
In addition to celebrating his 60th graduation anniversary, Zohrab Tazian has been honored as the latest inductee to the Indiana Tech Hall of Fame for his dedication to Indiana Tech. The history of the Alumni Hall of Fame can be found here.
John O'Donnell BSME '60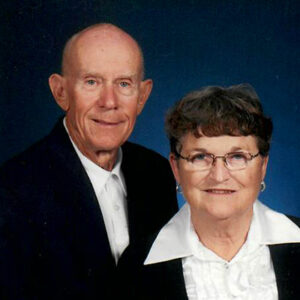 One year before graduating, John and his wife Ann, were married in Fort Wayne, Indiana. Together they have six children, all college graduates and three with Master's degrees, and ten grandchildren.
After graduation, John's career took shape with progressively longer runs with various engineering groups in many roles. He started his career with United States Steel in Homestead, Pennsylvania for four years before moving on Middletown, Ohio for a position with Kaiser Engineering for eight years.
The longest stretch of his career came from a 27-year stretch with Burns & McDonnel Consulting Engineers in Kansas City, Missouri, ending up as a principle in the power division. Throughout his career there, he managed and was responsible for the design of numerous fossil-fuel power generation projects. Before his retirement in 1997 he obtained the status of Registered Professional Engineer in 8 states.
Beyond his professional pursuits, he remained active with his children through the management of their little league teams. He participated in many road races as a runner and took up cycling and swimming. He has competed in more than 25 triathlons and was the 70-year-old age group winner of the "Spring National Triathlon" held annually at Lake Charles, Louisiana. He participated in the 100th running of the Boston Marathon. He has claimed 10 times more 1st place awards for his age group in his athletic career than 2nd or 3rd places and continues to walk and cycle every day (weather permitting). And last year, at the ripe-young-age of 86, John spent time skiing the snowy mountains of Colorado.
Dr. James Scroggin BSME '60
Time at Tech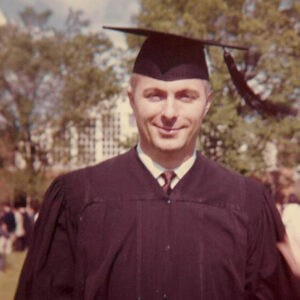 Leading up to his time at Tech, James' father and he were split between Tristate University and Indiana Tech. In 1958, Indiana Tech had just taken over Concordia campus and everything here had the right look to it, the right feel, and the right distance from home to make downtown Fort Wayne the more attractive choice for him. 60 years after finishing that degree, he knows it was the right choice.
He got his start of campus living in the dorms across from the old funeral parlor near campus and vividly recalls walking from campus to the downtown YMCA to swim.
During that time, the program in which he was enrolled would allow him to get his degree in a mere ten months. Instead of stopping after one in that time, he decided to continue to pursue furthered education and earned two degrees in three years.
One of his most vivid memories of his time at Tech was the time he and his lab partner were working on distilling benzamine from a sample of crude oil. The equipment cracked and set itself on fire and almost set fire to the lab and the entire Dana Building. "We didn't get any credit for that," Jim joked looking back.
Career
Jim's career and academic choice took shape from the closing of a branch of a Ford Motor Company technical school where he'd worked, pursuing 4000 hours of apprenticeship. Once they'd closed, Ford offered him a car to relocate to another trade school and continue his apprenticeship but Jim graciously replied, "Give me my severance and my vacation instead, I'm out." With that, his life in academia found him in both teaching and administrative positions all over the Midwest.
"It seemed that every campus I attended, something went south as soon as I got there," Jim joked in reflection of his professional journey. Following his time at Tech, he took a position at Michigan State, then to the University of Cincinnati to obtain his Ph.D. in six years. While there, he taught both day and evening classes and remembers it as a good experience.
Following Cincinnati, he was offered a professorship at Ohio Northern University, near the home of where NFL footballs are born, and then to University of Wisconsin at Platteville, a small mining town where he stayed for five years.
Years later, Jim applied to a position for the Dean of Engineering at Valparaiso in Indiana. Jim reflected that it was challenging because he never felt comfortable there as a hefty majority of the employees there were all alumni of Valparaiso and weren't all that welcoming to others from outside the university. After a short and uncomfortable 5 years there, he moved to the University of Bridgeport where he could have stayed until he retired. Instead, he followed that stint with two years at Messiah College. He took over the new four-year program and rewrote curriculum for this program, and was given accreditation in just four years, which, as he notes, "was unheard of as it is a very long and difficult process."
York Fischer BSElE '60
Time at Tech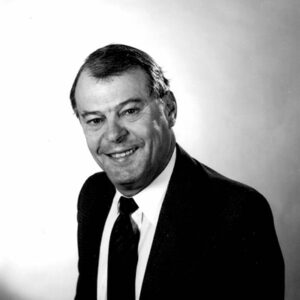 During his time at Indiana Tech, York Fischer dedicated a great deal of his time to his fraternity and to the flying club. Always interested in flying, he jumped in with the flying club one Christmas break to start taking lessons. His flight experience mostly involved flying in Cessna 120s and 140s, but every so often he was able fly a variety of others. His first solo flight took place one New Year's Day after one week of instruction.
He, like many of his classmates, came to Indiana Tech on the GI Bill and did most of his socializing at the fraternity. To keep himself afloat, he took up a job at a gas station in downtown Fort Wayne, but still made great use of his time with the fraternity and the flying club, becoming president of both.
Career
York's career involved quite an array of experiences and nearly all of them involved Europe or European influence in one fashion or another. This was probably built into his DNA as he was born in Munich. He started his career as a Phico tech rep at the Redstone Arsenal in Huntsville, Alabama which led to subsequent European assignments including the defense Communication Agency, headquartered near Paris then moved to Germany. The time there allowed him the chance to indulge in the local flavor of festivals and foods, as well as the opportunity to travel quite extensively for pleasure to places throughout Europe, Soviet-controlled eastern countries, and even up through the Arctic Circle. His business travel saw him bouncing throughout Europe and beyond, most memorably Norway, Japan, the UK, Malta, Italy, Greece, and Turkey.
It was an important time for development in communications but wasn't a heavy time for the military. However, there was always the promise of a threat from Russia. "It was a silent type of war," York recalled.
As a break from some of the more technical work he was involved with, he and a partner took a six year sabbatical and founded several Fondue restaurants in Marin County, California. They also started up the French Quiche Co. and introduced the relatively unknown product to restaurants, delis, supermarkets, and the general population. The Bing Crosby family was a big fan.
After his days as a restauranteur/entrepreneur, he worked for BBN in Germany as Manager of German Operations.
Throughout his adventures in the professional world, he always anxiously received the news that he would be sent back to Europe, citing that, "Once I first arrived, I always wanted to be there."
Life Beyond
One fateful summer, he decided to move from his home in Pennsylvania to be with his sister in Maine. While there, he ended up at a party to celebrate the 4th of July where he met his wife.