Togashi tapped to lead cybersecurity program to new heights
What do Marriott, Equifax, Target and Sony all have in common?
Aside from being distinguished companies in their respective industries, all have endured debilitating cyberattacks that have negatively affected their businesses, damaged their reputations and cost them millions of dollars to remediate.
As cyberattacks become more and more common, corporations are searching for the best and the brightest minds in cybersecurity to help them defend their digital infrastructure.
Indiana Tech is already a launching pad for outstanding cyber defenders. Its cyber defense team, the Cyber Warriors, is nationally known on a collegiate level, having won 13 state titles—including six straight. Now, the university is looking to Darryl Togashi to strengthen its cybersecurity degree program and raise it to new heights.
Professor Togashi was hired over the summer as director of Indiana Tech's cybersecurity program. He brings to the position more than 20 years of industry experience, which includes building servers; developing websites, databases and applications; managing and securing networks; and leading international projects. He has taught since 2005 and, over the last four years, has trained his focus on cybersecurity. Through his expertise, Professor Togashi has become a member of Indiana Governor's Council on Cybersecurity and an Infragard Member in the education sector for Indiana.
"Darryl contacted me last spring about collaborating on some academic projects. As we talked about these, I outlined the direction that Tech was heading in cybersecurity, especially in developing a state-of-the-art Security Operations Center (SOC). His enthusiasm for this was quite evident which was the first important step in considering him to lead this project," said Gary Messick, associate dean of the university's College of Engineering and School of Computer Sciences. "As our discussions continued, I learned that Darryl puts in the time and effort to bring a project to a successful conclusion. He does not shy away from challenging work."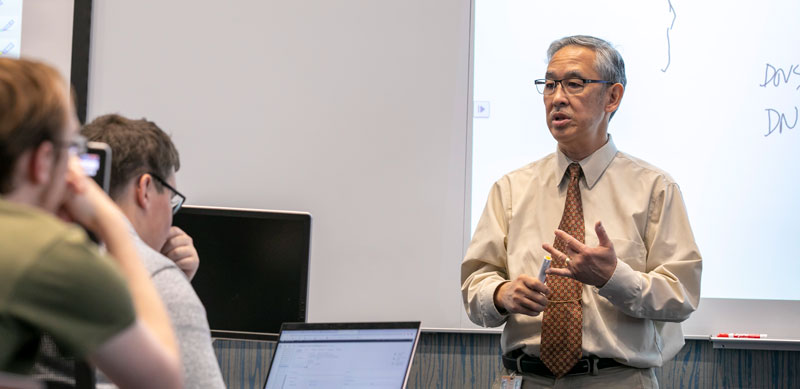 An SOC is a training center built from hardware and software that will allow students to monitor and identify devices and traffic on our network and give them the ability to see and learn from unusual activity that would be considered a hack or violation of company security policies. This isolated lab would allow students to perform ethical hacking, network penetration tests and cyber defense activities, without triggering alarms in our production network.
Developing a world-class SOC is just one of the many changes professor Togashi wants to accomplish over the next two years.
"We are adding classes to the program to help fill some of the gaps identified by local and national companies that we have talked to in helping us understand what we need to do to bridge the gaps between education and industry," professor Togashi said. "Along with additional classes, our enhancements will include building new labs and workspaces for our students to have hands-on experience where they can experience real-life scenarios and challenges."
Those new labs and workspaces include:
A digital forensics lab, where simulated crime scenes can be created to give students practice at incident response and digital forensics investigation techniques.
A data center, which can be used for our cybersecurity program and other departments within the School of Computer Sciences. Professors will be able to create customizable virtual environments to give our students another hands-on environment to learn from
"The opportunity to focus on cybersecurity and be involved in building a security operations center and a digital forensics lab appealed to me," professor Togashi said. "The plan is to grow our cybersecurity program to be nationally recognized as a viable program."
Earning a Center of Academic Excellence in Cyber Defense Education (CAE-CDE) designation will be a huge first step.
The CAE-CDE program is sponsored jointly by the National Security Agency (NSA) and the Department of Homeland Security (DHS). When a university has a CAE-CDE designation, it means its curriculum meets NSA and DHS standards, which are based on helping prepare cybersecurity professionals to meet industry gaps in our national infrastructure.
Designated CAE-CDE schools are also eligible for grants from the Department of Defense Cybersecurity Program, the National Science Foundation and Scholarship for Service programs. These grants can be used for further program enhancement.
Professor Togashi indicated Indiana Tech has applied for CAE-CDE designation and should know the results in 2020.