Orange and Black, Unleashed! It's the bold, new look of Indiana Tech Athletics.
August 1, 2019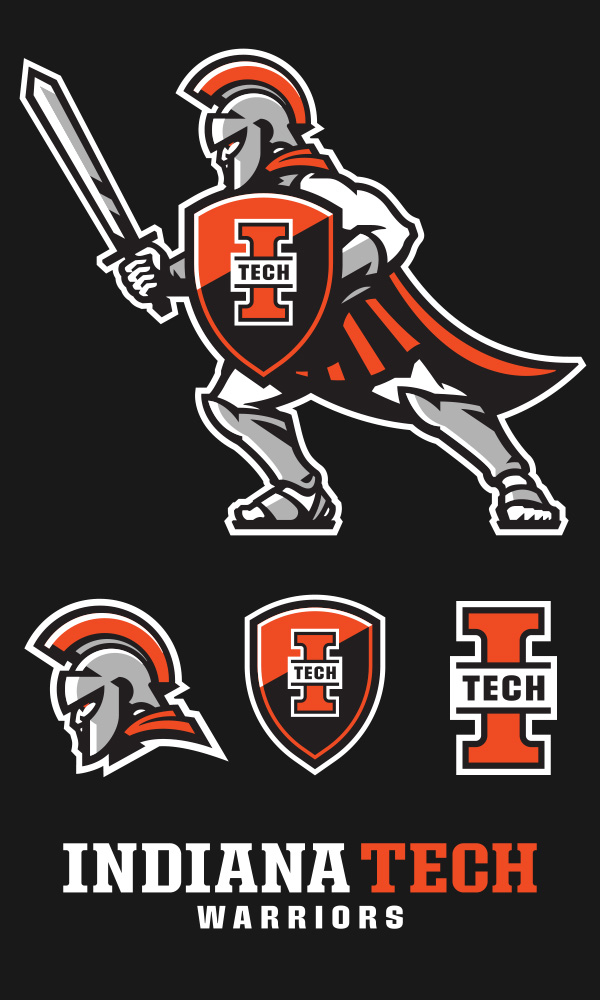 The Indiana Tech Department of Athletics launched a new logo system, which was officially released Thursday.
Tech gets an updated Warrior logo, which has been the official mascot of the university since 1952, and a robust logo set that features the addition of a full-body Warrior, an updated I-Tech logo, a stand-alone shield option, new word marks, fonts for print and web, and other options to fit the news of Tech's 27 varsity sports.
"We are ecstatic to unveil our new marks for athletics as student-athletes begin to report back to campus for fall practice," said Tyler Stevenson, Sports Information Director. "We think the new Warrior, along with the rest of the marks, promotes a strong and dynamic athletics department that will give us a clear and recognizable brand and sets us apart not only in the Wolverine-Hoosier Athletic Conference (WHAC) and NAIA, but across all levels of collegiate athletics."
The change will be rolled out over the next year, as numerous teams will use the new marks on competition gear while all teams will have practice and team gear with the updated logos. Indiana Tech's athletics website, www.indianatechwarriors.com, and social media accounts, will also feature the updated marks while other changes, such as updating logos in competition spaces, will happen as a rolling change over time.
"I'd like to thank our marketing team for their help in navigating this venture and getting us at this destination," Stevenson noted. "With the launch of the 'Go For IT' initiative last year and the charge to give Indiana Tech and clear and recognizable brand, we could not be happier with how the athletics redesign went. This is an evolution of the Warrior and having the marks connect and build upon one another is something we think will help differentiate us from the competition."