Another triumph for Tech in track and field!
March 9, 2023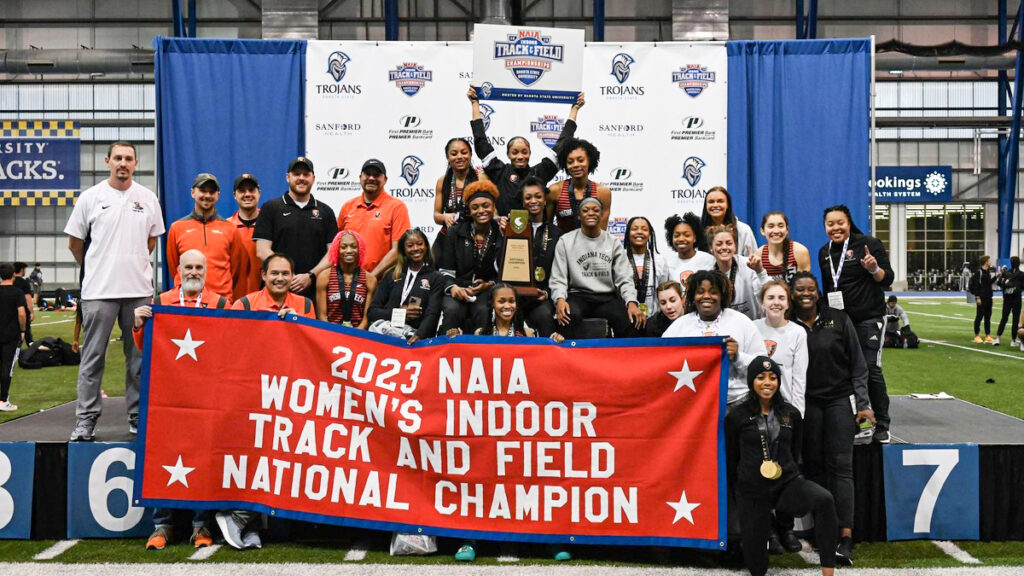 A compete team effort resulted in a dominating performance on Saturday, March 4, as the Indiana Tech women's track and field team rolled to their third consecutive indoor NAIA Championship.  It marked the fourth indoor NAIA women's title since in school history, the seventh for the women's program (indoor+outdoor) all-time, and the 16th national championship for Indiana Tech Track & Field since 2013.
What made this title even more special was the fact that only 23 women made the trip and all 23 competed.  20 of the 23 student-athletes earned All-American honors and the other three either broke a school record or had a PR.
Juanita Webster-Freeman earned Outstanding Performer of the meet for a three-day run that saw her compete in six different events (one of them being the 5-event pentathlon) and score 31 points.  She won the pentathlon, took third in the 60 hurdles and shot put, and fourth in the long and high jump.  Her 31 points were the second-most by a Tech student-athlete in the indoor championship.  Leondra Correia had 38 in 2021.
Doug Edgar was named the NAIA's Coach of the Year for the 16th time since taking over the program in 2010.
The women captured the team lead early in the day, and while other squads made runs, none could approach what turned out to be an 85-point total.  Huntington (64), William Carey (58), and Life (50) rounded out the podium teams.
The men had several fine performances, but were short-handed and unable to climb atop the podium (top four) for what would have been the 11th straight year.  Tech's men finishd 17th with a total of 16 points.
Individual Highlights:
Learn more about everything going on with Indiana Tech's athletic program at indianatechwarriors.com.