AT&T Aspire Grant Supports Career Services
December 10, 2014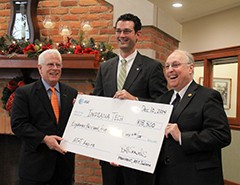 AT&T Indiana today announced an $18,500 AT&T Aspire contribution to Indiana Tech that will help prepare students for future success.
AT&T Indiana President Bills Soards made the announcement at the university this morning, joined by State Rep. Phil GiaQuinta, Fort Wayne Mayor Tom Henry, former State Sen. Tom Wyss and Indiana Tech President Dr. Arthur Snyder.
Snyder explained that AT&T's contribution will support the continuation and expansion of the  Career Readiness Program, "Equipped!"  Through this program, college students and new graduates will gain workforce readiness and career leadership skills.  Participants will be trained in job search skills such as how to network, proper use of social media, and the application process.  They will interact with employers in seminars and workshops where students will build their knowledge and practice these essential skills.
"All of the elements of this program point to creating a viable and adaptive workforce that is prepared to face the changing needs of employers and customers," GiaQuinta said.  "It's a pleasure to celebrate AT&T's recognition of Indiana Tech's plans today."
"Indiana Tech and AT&T are providing outstanding services to benefit students for an opportunity at a successful future," Henry said. "I continue to be encouraged by our community's commitment to education as we work together to make a positive difference."
Among the most significant corporate educational initiatives in the U.S., AT&T Aspire has already impacted more than one million students across all 50 states since the program launched in 2008.
"I'm proud to see Indiana Tech innovating and empowering young people," Wyss said.  "With AT&T's contribution, they'll be encouraging students, educators and caregivers to utilize new technologies for personal, career and community growth."
"We've long been committed to using technology to deliver the best possible educational experience to our students, and AT&T is a leading innovator in this area," Snyder said. "We are extremely grateful for their support of our efforts to provide Indiana Tech students and graduates with crucial workforce readiness and career leadership skills."
"Education is the best investment we can make to ensure our new hires start day one with the skills they need," Soards said.  "Through AT&T Aspire, we're engaging our network, mobile and cloud technologies, our employees and our partners to make a transformational impact on learning."