Career Center Honors Best Interns, Employers
April 24, 2014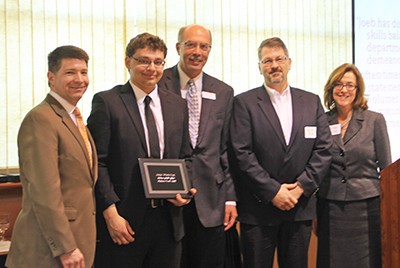 Fort Wayne, Ind.—The Indiana Tech Career Center celebrated student interns and their employers at its 6th annual Internship Recognition Breakfast on April 23.
Janet Boston, executive director of Indiana INTERN.net, attended the event and announced the winners of the Intern of the Year, Employer of the Year, and Outstanding Participation awards.
Fifteen students were nominated for Intern of the Year, and the award went to Joeb Woodring for his work with Superior Essex. Woodring is a junior from Avilla, Ind., with a major in mechanical engineering.
"Joeb has been a great addition to the Superior Essex Magnet Wire Division Engineering team," his supervisor, Matthew Leach, said in his nomination. "For a third year engineering student, he has continued to display the sense of urgency, dedication, and maturity of an engineer with several years of experience. …. Everyone within the department agrees that he is a breath of fresh air and carries a personable demeanor that projects a positive can-do spirit."
Three students received an Honorable Mention certificate for their outstanding work:
Lauren Allard, intern at Therma-Tru Corp.
Ashley Benvenuti, intern at Epitec, Inc.
Emily Kuhn, intern at LaGrange County Economic Development Corp.
Therma-Tru Corp. was named Employer of the Year. The award is given annually to a company or organization that has had a vital impact on internships during the past year and shown generosity in participating and supporting Indiana Tech Career Center events, programs and services.
Aerotek earned the Outstanding Participation award. The award recognizes one employer that has gone above and beyond to participate in Career Center events.