Community invited to four free Leadership Week events at Fort Wayne campus
September 26, 2017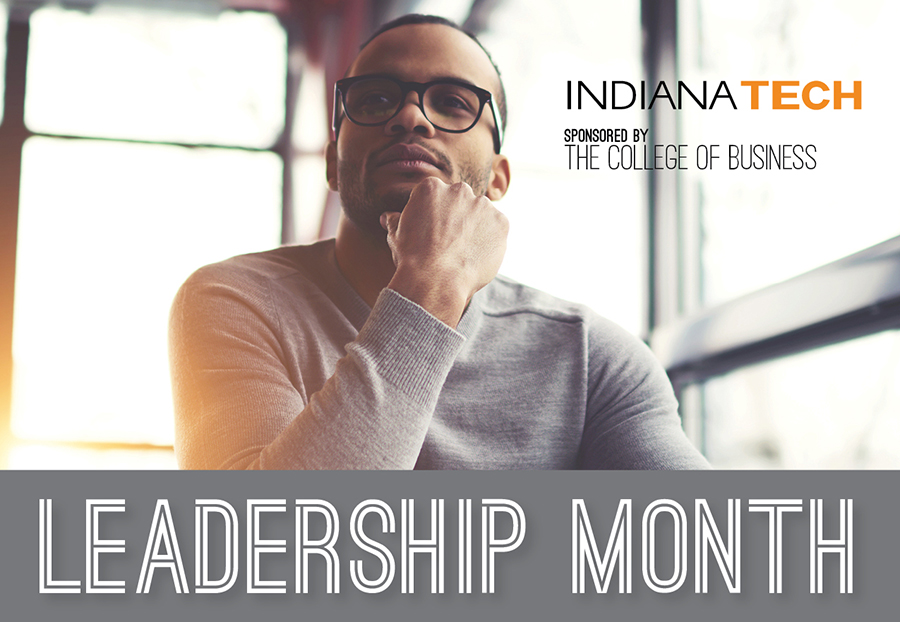 October is Leadership Month at Indiana Tech – an initiative presented by the College of Business and dedicated to engaging students in leadership activities that will help them build lifelong leadership skills.
During the month, we are hosting four free events on the Fort Wayne campus that everyone can benefit from. Take a look at the lineup, see if these events will be beneficial in your growth and join us. We hope to see you!
Wednesday, Oct. 4, 7-8:30 p.m.
How to Learn in Harmony with Your Brain
Multi-Flex Theater (Room 133), Snyder Academic Center
Terry Doyle, educational consultant and professor emeritus at Ferris State University, will discuss how findings from the last 15 years of neuroscience, cognitive science and biology research point clearly to a new paradigm for student learners.
Wednesday, Oct. 11, 7-8:30 p.m.
Leading Your Life with Credit
Talwar Leadership Center (Room 234), Snyder Academic Center
Todd Mason, vice president of lending at Public Service Credit Union in Fort Wayne, will talk about consumer credit, and the importance of credit scores and what goes into determining them. He'll give suggestions for how to build credit and how to rebuild it when things have gone wrong.
Wednesday, Oct. 18, 7-8:30 p.m.
Economic Outlook for Business Leaders
Talwar Leadership Center (Room 234), Snyder Academic Center
William Strauss is a senior economist with the Federal Reserve Bank of Chicago – a place he has worked since 1982. His chief responsibility includes analyzing the current performance of both the Midwest economy and the manufacturing sector for use in monetary policy.
Tuesday, Oct. 24, 6-7:30 p.m.
STARTS AT 6 P.M., NOT 7 P.M.
Sleuths with Green Eyeshades
Talwar Leadership Center (Room 234), Snyder Academic Center
L. Christopher Knight, a forensic accountant with the Federal Bureau of Investigation, will discuss the profession of forensic accounting, the types of services forensic accountants perform and the organizations that employ them. In addition, he will discuss what characteristics students should develop now to make them most competitive for these types of positions.