Cyber Warriors earn global berth after impressive CPTC showing
December 5, 2022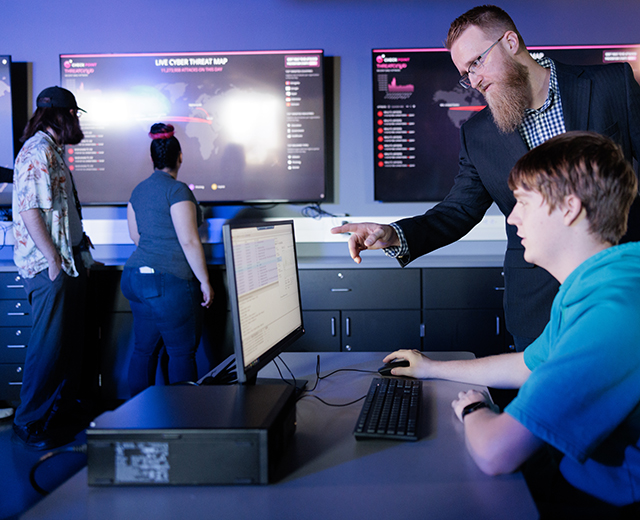 For more than a decade, Indiana Tech's cyber competition team, the Cyber Warriors has been the state's top collegiate cyber defense program and is considered a powerhouse on a national level.
Now, the Cyber Warriors are trying to become a force in another area of cyber competition—penetration testing.
After a second-place finish at the Great Lakes Regional Collegiate Penetration Testing Competition in October, the Cyber Warriors earned a berth in the CPTC Global Finals, which will Jan. 13 through 15, 2023 at the Rochester Institute of Technology in Rochester, New York.
Joining Indiana Tech will be competitors from American University of Sharjah, Brigham Young University, California State University, Fullerton, California Polytechnic University, Pomona, Liberty University, Princess Sumaya University for Technology, Rochester Institute of Technology, Rochester Institute of Technology-Dubai, Stanford University, University of Central Florida, University of Massachusetts-Amherst, University of Texas at Austin, University of Texas at San Antonio and University of Tulsa.
Over the years, the Cyber Warriors developed into a powerhouse by performing well in competitions where defending a computer network from outside attacks is the objective. In penetration testing competitions, participating teams go on the offensive. They conduct real-world penetration testing engagements to find, exploit and suggest remediations for security vulnerabilities. This is similar to those performed by companies, professional services firms and internal security departments around the world preemptively hiring these professionals to break into their systems to know what vulnerabilities a real attacker might attempt to exploit.
During these competitions, volunteers and sponsors develop an immersive mock organization that is seeking penetration testing services. Competitors play the role of a consulting firm that provide the testing services to the organization. Competitors must provide deliverables, presentations to company management and recommendations about the vulnerabilities discovered during the test. Teams are scored not just on the technical vulnerabilities discovered, but also on their professionalism and communication skills.
"This competition is now considered the flagship for our offensive security team," said coach Matt Hansen, an Indiana Tech alum who was a championship-winning Cyber Warrior himself during his time as a Tech student. "Our first experience in CPTC was in 2021 and our feet weren't quite under us yet. This year, we knew what to expect and were better prepared to compete at the highest level. I'm very pleased with the progress we've made in a short amount of time."
Members of the Cyber Warriors' penetration testing team are Riley Boroff, Marek Grzelak, Zach Hampton, Zak King, Nia Lott, Bryce Murphy, Myles Nieman and Samuel Regelbrugge.