Cyber Warriors still alive in hunt for national championship
March 20, 2023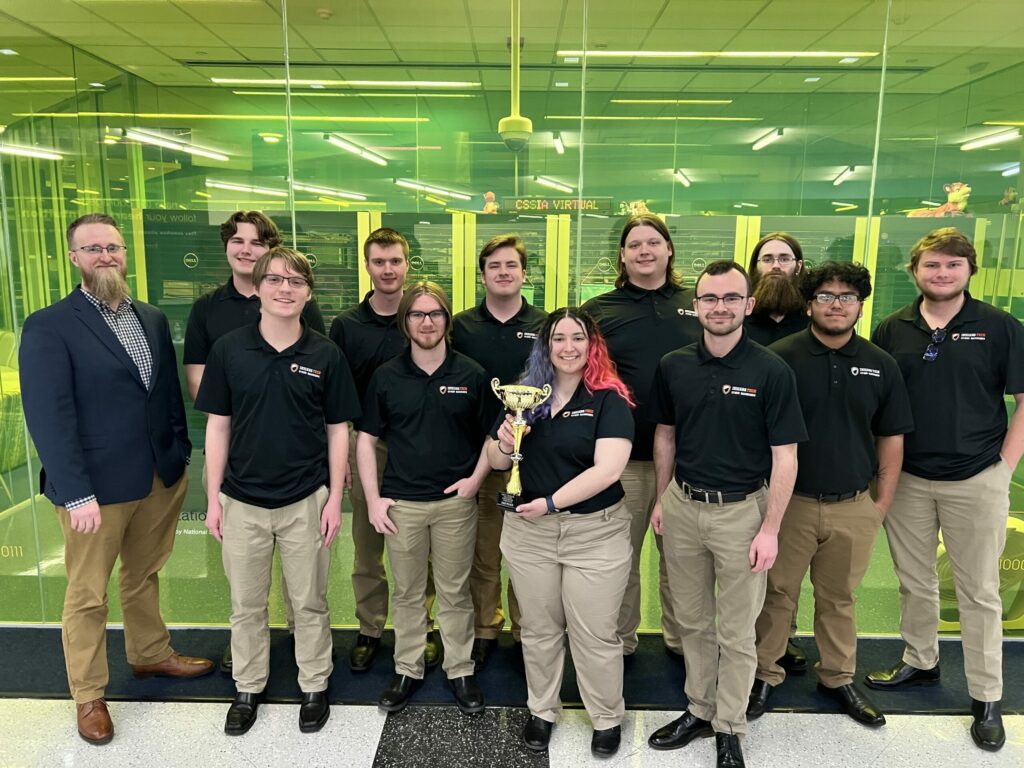 Indiana's top collegiate cyber defense team, Indiana Tech's Cyber Warriors, finished in second place in the Collegiate Cyber Defense Competition (CCDC) Midwest Regional in Chicago on March 18. The Cyber Warriors now advance to the wildcard round, the winner of which will advance to the CCDC National Championship in late April. The date for the wildcard round is to be determined.
According to coach Matt Hansen, who is an Indiana Tech alum and was a championship-winning Cyber Warrior during his time as a Tech student, the Cyber Warriors had near-perfect scoring in one category of the competition and were in a position to win for much of the weekend. It is the sixth straight year the Cyber Warriors have finished in the top three of the regional competition. The showing also secured them a spot as one of the nation's top 20 cybersecurity teams.
"Although this is a tough finish for us, I can say without a doubt that in my 13 years with the Cyber Warriors, this is the best showing we've ever had at a CCDC event. I am extremely pleased with our performance over the weekend," Hansen said.
Each year, competing cybersecurity teams work to combat attempted network security breaches and related challenges that test their problem-solving, technical abilities and teamwork at every turn. The Cyber Warriors qualified for the regional after their ninth straight and 16th overall Indiana Collegiate Cyber Defense competition in February. The Cyber Warriors held off second-place Purdue University-West Lafayette and third-place Vincennes University to earn the title.
Members of this year's Cyber Warriors team include (from left to right in the photo) Coach Matt Hansen, Nyles Nieman, Sam Regelbruggy, John Allen Rudolph, Bryce Murphy, Jeremy MacRoberts, Nia Iott, Zak King (captain), Garrett Bates, Hunter Clements, Osman Yusof and Tim Bukowski.