Cyber Warriors win ninth straight, 16th overall state cyber defense competition
February 6, 2023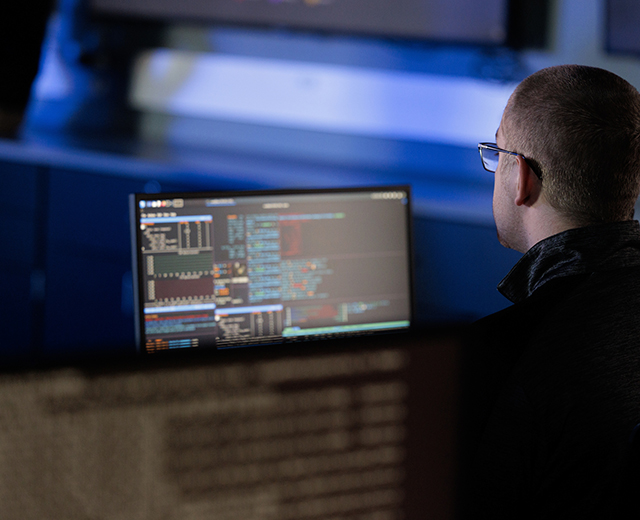 Indiana Tech's cyber defense team, the Cyber Warriors, continued its dominance over state universities by winning the Indiana Collegiate Cyber Defense Competition on Saturday, Feb. 4. The victory was the ninth straight time and 16th overall the Cyber Warriors finished as state champions.
Each year, competing cybersecurity teams work to combat attempted network security breaches and related challenges that test their problem-solving, technical abilities and teamwork at every turn. During this year's competition, Indiana Tech beat out tough competition from skilled collegiate teams across Indiana. The Cyber Warriors held off second-place Purdue University-West Lafayette and third-place Vincennes University to earn the title.
Members of this year's Cyber Warriors team include Zach King, Jeremy MacRoberts, John Allen Rudolph, Nia Iott, Osman Yusof, Bryce Murphy, Hunter Clements, Sam Reggelbrugge, Myles Nieman and Tim Bukowski. The team is coached by Matt Hansen, an Indiana Tech alum who was a championship-winning Cyber Warrior himself during his time as a Tech student.
Indiana Tech's Cyber Warriors now move on to the virtual Midwest Regional CCDC on March 17 and 18, facing fellow state champions from Illinois, Iowa, Kentucky, Michigan, Ohio, Minnesota, Missouri, Wisconsin and the winner of a wildcard round in an attempt to qualify for the national competition.
Supported by their stellar showings within the state, the Cyber Warriors have earned a reputation as one of the nation's premier cyber competition programs. In addition to winning state titles, the Cyber Warriors won regional competitions in 2007, 2011 and 2018, and finished among the nation's top 10 teams in those years. In December 2022, they earned a berth in the Collegiate Penetration Testing Competition Global Finals at the Rochester Institute of Technology.
For four years running, every member of the Cyber Warriors has secured a job in their career field prior to graduating. Indiana Tech has also established a growing national reputation as a producer of top talent in the cybersecurity field, having recently been recognized as a National Center of Academic Excellence in Cyber Defense by the National Security Agency and the Department of Homeland Security.
Learn more about Indiana Tech's cybersecurity program and the Cyber Warriors at academics.indianatech.edu/colleges/cyber-center.