University Celebrates 'Crown Jewel' Academic Center
September 20, 2014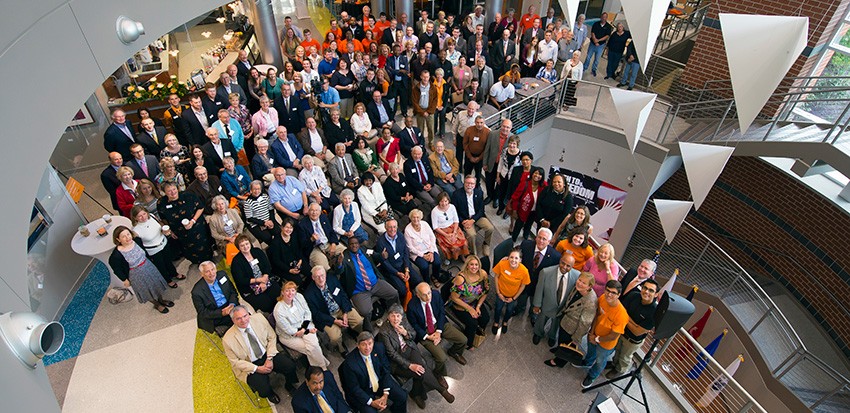 A crowd of alumni, students, faculty, staff, and supporters of Indiana Tech gathered in the Academic Center's rotunda to dedicate the building that has been dubbed the "crown jewel" of the campus.
Janet Chrzan, chair of the Board of Trustees, welcomed everyone and described many of the building's features, which include:
Classrooms, labs, offices and study spaces for Indiana Tech's growing College of General Studies (which includes the Center for Criminal Sciences and School of Education)
An enhanced and enlarged space for McMillen Library, designed for the digital information age
A multi-flex auditorium and theater
The Ravi and Eleanor Talwar Leadership Center
The Franco D'Agostino Art Gallery, which will feature the work of local, regional and national artists on a rotating basis
The Center for Creative Collaboration
A contemporary art collection displayed throughout the building
A café offering sandwiches, salads, soups, and a variety of beverages including Starbucks coffees and teas
A lounge for commuter students
"Standing here in this wonderful space, it's plain to see how beautiful the Academic Center is. But what is far more important to all of us is what will happen in these spaces," Chrzan said. "We created this place to be a center for student discovery, inspiration and growth. A place where students, faculty and staff can collaborate and do their best work together. They are building their futures here at Indiana Tech and building our future as a university along the way."
Chrzan then introduced President Arthur Snyder to discuss the time capsule being placed in the building for the future Indiana Tech community to open in 2064. Items in the time capsule include:
A map of campus
The Warrior Legend
Academic catalog
Dining hall menu
Printout of a final exam
List of building donors
Photos of students, the campus, Fort Wayne, and the  president, deans, and trustees
Photos of building construction
Photos submitted by students via Instagram
Letters from the president and chair of the board
Notes from the deans and faculty members
Notes from students on daily life here, why they came to Indiana Tech, what they will be doing next
Note from Fort Wayne Mayor Tom Henry
Notes from building contractors
A CD/USB drive with president's videos, videos of students, athletic footage
Indiana Tech flag
Indiana Tech T-shirt
Sample student ID
2014 tassel from graduation cap
Maximus bobblehead
Tech hockey puck
Mini flags for each country represented among Tech students
"I got kind of sentimental thinking about this time capsule," Snyder said. "I got to wondering . . . when they open this in 2064, who the heck is going to be there?"
He found an answer in his own office, intern Ashley Benvenuti.
"She's promised me she'll come back here when they open this capsule in 2064, and share with those Hoosiers and others who might be at this great university, what it was like to be here on this day," he explained.
He then asked everyone to smile and say "Indiana Tech" as a photographer snapped shots of the crowd as the last item to be added to the time capsule before it is finally sealed.
In closing, Snyder echoed Chrzan's comments on the feel of the building as lively place for student and faculty collaboration.
"When you walk in this building, when you feel the building, if you're here when students are going to class, this place makes you smile. It makes you happy," he said. "And that's what we wanted."