Distinguished professor and university trustee Sherrill Hamman to serve as 2021 Indiana Tech commencement speaker
February 23, 2021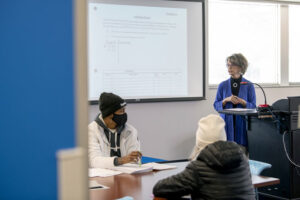 Longtime Indiana Tech associate professor and board of trustees member Sherrill Hamman will be Indiana Tech's commencement speaker during the university's annual commencement ceremonies on Saturday, May 15, 2021, at Allen County War Memorial Coliseum in Fort Wayne.
Professor Hamman is Indiana Tech's longest-serving faculty member, having joined the university in 1976. She began her career at Tech as an assistant librarian in McMillen Library and in 1977 became an instructor of accounting, ultimately rising to the rank of associate professor of business in 2000. Hamman also currently serves as the faculty representative on Indiana Tech's board of trustees. After 45 years of distinguished service to students and the university, she plans to retire at the end of the 2020-21 academic year, on June 30, 2021.
"Sherrill Hamman has long been the finest example of the tremendous impact that professors have on the lives of their students and their community," Indiana Tech president Karl Einolf says. "She has been a mentor to thousands of students in her time at Indiana Tech, and a leader, trusted colleague and valued friend to countless faculty and staff members over the years. I can think of no one better to provide an inspiring message of leadership and dedication to others to our graduates at commencement this May."
Hamman will address the graduates at Indiana Tech's three commencement ceremonies scheduled for May 15. To aid in social distancing and reduce audience size during the pandemic, the university has scheduled three separate ceremonies for that day, one for each of its colleges. The commencement ceremony for Indiana Tech's College of Arts and Sciences will take place at 9:30 a.m.; the College of Business ceremony will take place at 12:30 p.m.; and the College of Engineering and School of Computer Sciences ceremony will take place at 3:30 p.m.
Each of the three ceremonies will honor both 2021 and 2020 graduates earning associate, bachelor's and masters' degrees within their respective colleges. Graduates earning Ph.D. in Global Leadership degrees will be honored during the College of Business ceremony. All ceremonies are free and open to the Indiana Tech graduates, friends and families from each college. Graduates from the Class of 2020 will be honored this year due to the May 2020 commencement ceremony having been cancelled due to the pandemic.
The schedule and approach to holding this year's commencement ceremonies, including the number of guests permitted for each ceremony, are subject to change based on conditions related to the pandemic. To stay up to date on commencement-related news, please visit https://commencement.indianatech.edu.
About Professor Sherrill Hamman: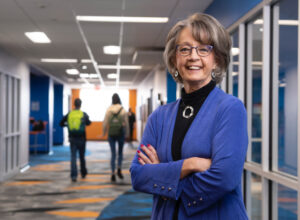 Sherrill Hamman has served the students of Indiana Tech for nearly 45 years, having started her tenure at the university in September 1976. She began her career at the university as an assistant librarian in McMillen Library from 1976-77, becoming an instructor of accounting in the fall of 1977. She ultimately rose to associate professor of business in 2000, a role she has performed with distinction in the 21 years since.
During her time at Indiana Tech, Hamman has received numerous teaching and service awards, including the 2015-16 Faculty Member of the Year award; the 2013 College of Business award for outstanding contributions and dedication to the College of Business; the 2020 Tech Spirit award given in recognition of dedicated support to Indiana Tech Athletics; and the 2006 DIPIS (Does It Positively Impact Students) Award.
Hamman has also been a leader and innovator in the area of teaching methodology and peer resources at Indiana Tech. She created the first-ever Faculty Learning Community (FLC) at Indiana Tech, an effort noted for its quality by Dr. Milton Cox, an international expert on FLC development. She has also fostered the development of seven more FLC's at Tech during her time at the university. More recently, she developed the concept for and launched TEC@Tech – the first Teaching Excellence Center at Indiana Tech, which helps faculty members with professional development, peer-to-peer mentoring and other teaching resources.
Hamman has also served on numerous faculty and staff committees throughout her tenure at Indiana Tech, including two search committees for the university's president in 2002 and 2016; the general education and program review task forces; the curriculum review, tenure and promotion, and faculty evaluation and review committees, and many more. In 2015, she was elected by her faculty peers to serve as the faculty representative to Indiana Tech's board of trustees, a position she has held ever since.
Hamman is also a dedicated volunteer for community organizations throughout the Fort Wayne area. Her service throughout the years has included work on behalf of Habitat for Humanity, the Parkview Foundation, Ronald McDonald House, the Big Brothers/Big Sisters Lunch Buddy program, The Chapel Assimilation Team, board member and treasurer for Executive Women's International, board chair of the Northeast Indiana Discipleship Walk program, and board member of Public Service Credit Union.
Professor Hamman earned her Bachelor of Science in Business Education and Office Administration from Ball State University, and her Master of Science in Secondary Education from Indiana University.