Dr. Maurice Stinnett to be Indiana Tech's 2022 commencement speaker
May 1, 2022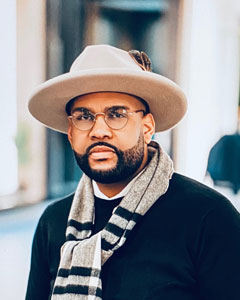 Dr. Maurice A. Stinnett will be Indiana Tech's commencement speaker during the university's annual commencement celebration on Saturday, May 14, 2022 at Allen County War Memorial Coliseum in Fort Wayne.
Dr. Stinnett is an experienced leader and expert in the areas of diversity, inclusion, and equity across the nonprofit, education, and corporate sectors. He serves as Global Head of Diversity, Equity and Inclusion at Warner Music Group, a leader in global music entertainment. In his role at WMG, Dr. Stinnett spearheads the company's equity initiatives and implements tailored strategies and programs designed to cultivate a diverse and inclusive company culture.
Dr. Stinnett previously made history as inaugural Vice President of Diversity and Inclusion for BSE Global, owner of Barclays Center and the NBA's Brooklyn Nets, where he provided leadership and support across BSE's brands. Dr. Stinnett was the first Black man appointed Vice President of Diversity and Inclusion for an NBA team. Upon transitioning to his current leadership role at Warner Music Group, Dr. Stinnett was honored with the title of Diversity, Inclusion, and Community Engagement (DICE) Ambassador for the Brooklyn Nets.
His earlier career experience includes roles in higher education and nonprofit leadership. He held positions as Vice President of Engagement and Chief Diversity Officer at Cleveland State University and as Dean of Students at Central State University. In the nonprofit sector, he acted as Senior Director of Community Engagement and Education at CentroNia, a multicultural, bilingual education nonprofit located in Washington, DC, and Chairman for the World Leadership Program, a White House initiative under the Obama administration that sought to spark learning and dialogue between graduate students and universities in the Middle East and the United States.
Dr. Stinnett is an energetic presenter who is a fierce advocate for equity and inclusion. He has been recognized for his work by various organizations, including receiving the Jackie Robinson Trailblazer Award from Rev. Jesse Jackson's Rainbow PUSH Coalition and being named to the 'The Responsible 100' corporate leaders list by City & State New York. He is proud to serve as a member of the Advisory Board of the 100-million-dollar Warner Music Group/Blavatnik Family Foundation Social Justice Fund, and as a Social Justice Ambassador for the Congressional Black Caucus Foundation's National Racial Equity Initiative. He holds a Bachelor of Arts in Business from Central State University, a Master of Divinity from Princeton Theological Seminary, and a Master of Education and Doctor of Education and Organizational Leadership from Columbia University.
"All of us in the Indiana Tech community are proud to welcome Dr. Stinnett as our 2022 commencement speaker," Indiana Tech president Karl Einolf said. "He is a renowned leader whose work, experiences and impact on others are a clear demonstration to all of our students of what it means to live a life of significance and worth. His story and commitment to community will be an inspiration to each of our graduates."
Dr. Stinnett will speak during the university's undergraduate commencement ceremonies on Saturday, May 14, at 12:30pm at Allen County War Memorial Coliseum. The ceremony is free and open to all Indiana Tech students, families, alumni and the public – no tickets are required. The university's graduate commencement ceremony for master's and Ph.D. graduates will be held on the Indiana Tech main campus in the Schaefer Center, on Friday, May 13, at 7:00pm.