Indiana Tech names Dr. Ying Shang new dean of College of Engineering
February 9, 2021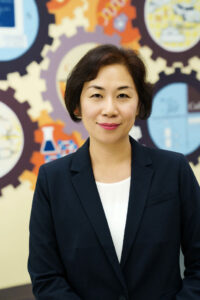 Indiana Tech has named Dr. Ying Shang as its new dean of the College of Engineering and School of Computer Sciences. Dr. Shang will begin her service at the university on June 28, 2021. She succeeds David Aschliman, who is retiring as dean after an 18-year tenure at Indiana Tech.
Dr. Shang comes to Indiana Tech from the University of Evansville, where she has served as dean of the College of Engineering and Computer Science and professor since 2018. During her tenure as dean, she has built strong industry and community partnerships, developed new academic programs, established numerous articulation agreements with international institutions, built alternative revenue models for the college through industry-sponsored research and projects, launched a technology transfer and commercialization engine, improved philanthropy and fundraising, and worked to enhance diversity and inclusion at the university.
Prior to her work at Evansville, Dr. Shang spent 12 years at Southern Illinois University Edwardsville, starting as an assistant professor in the Department of Electrical and Computer Engineering and ultimately rising to become chair of the department during her time there. As the department chair, she fostered faculty growth in teaching and research, secured ABET accreditation, spearheaded the launch of the university accelerator, and improved industry partnerships. Dr. Shang also served as the faculty advisor for the Society of Women Engineers Student Chapter at Southern Illinois University Edwardsville from 2007 to 2015, and initiated the first annual Introduce a Girl to Engineering event, which has grown to attract hundreds of middle school girls each year.
Dr. Shang earned her B.S. in Control Science from Shandong University in Jinan, China, and her M.S. and Ph.D. in Electrical Engineering from the University of Notre Dame. Dr. Shang's research expertise includes discrete-event control systems and hybrid systems with applications in communication networks, transportation systems, and manufacturing systems. She is professional member of the American Society of Engineering Education, the Institute of Electrical and Electronic Engineers, and the Society of Women Engineers.
Indiana Tech's Vice President for Academic Affairs, Dr. Tom Kaplan, commented, "All of us at Indiana Tech are tremendously excited to welcome Dr. Shang to our university. Her experience, knowledge and leadership abilities stood out amongst many fine candidates who were part of our search process for this vital position. I'm confident that her extensive experience in program development, faculty support, corporate partnerships and international initiatives will help us continue building on a tradition of excellence in our College of Engineering and School of Computer Sciences."
Dr. Shang commented, "I was so impressed by the innovative vision, strategic direction, 'can-do' culture, and, most importantly, the people at Indiana Tech. With many new initiatives happening in the College of Engineering and School of Computer Sciences, it is my tremendous honor to join Indiana Tech at this exciting time. I look forward to working together with the faculty, students, and staff at Indiana Tech in the near future."
Dr. Shang's appointment as dean of the College of Engineering and School of Computer Sciences at Indiana Tech was the culmination of a nationwide search that began in the summer of 2020. The search was led by higher education search firm RH Perry & Associates, working with an internal search committee of Indiana Tech faculty and staff members.