Engineering professor Michael Biers earns regional teaching honor
September 18, 2017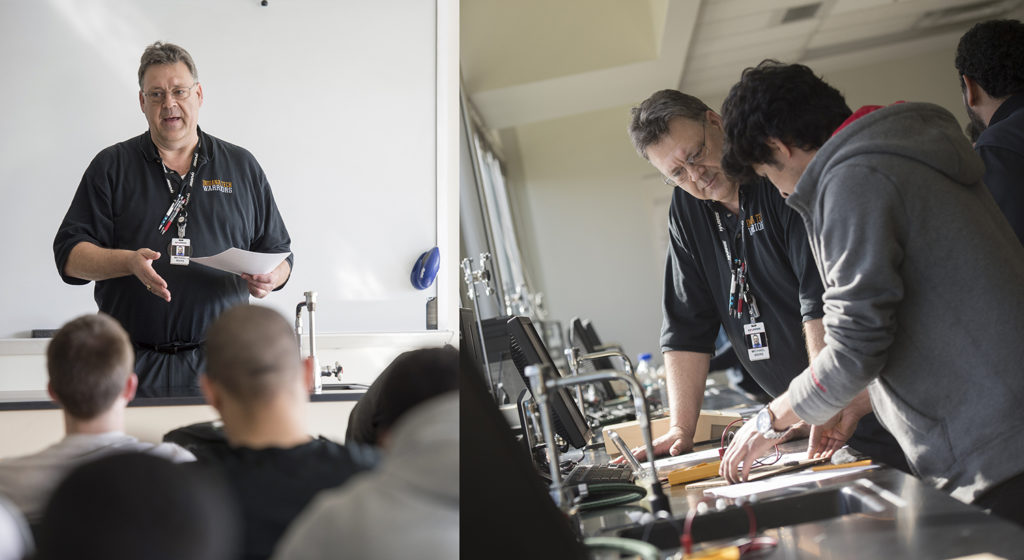 Indiana Tech is pleased to announce that adjunct professor, Michael Biers, has been named Questa Education Foundation Teacher of the Year by Greater Fort Wayne Business Weekly.
Biers was honored on Sept. 16 when the publication released its 2017 Education Award winners. The awards recognize outstanding teachers in northeast Indiana who engage and inspire their students, and encourage life-long learning. Biers and other award winners will be recognized at an awards banquet on Oct. 18 at Allen County War Memorial Coliseum.
"Michael is an outstanding adjunct engineering instructor for us. His evaluations, completed by students, are consistently among the best. Students love his ability to teach both the theory and the hands-on applications in his courses," said David Aschliman, dean of Indiana Tech's College of Engineering. "Believe it or not, Michael takes 'vacation time' from his full-time job to teach in the Indiana Tech Engineering Summer Camp.  We sincerely appreciate his service to Indiana Tech students."
Biers has taught electrical engineering courses at Indiana Tech as an adjunct professor for a little more than a decade. He is a senior design engineer at Harris Corporation in Fort Wayne.
"Winning this award is quite an honor, but I am just doing what I love to do," Biers said. "Sharing my expertise with students and helping them move forward in their careers is special to me. I'm happy that Indiana Tech cultivates the type of positive learning environment that allows me to do that."
Indiana Tech thanks all award winners for creating stellar learning environments for their students.
IPFW Lifetime Achievement Award Higher Education 
Ahmed Rachdi, IPFW
Continuing Lecturer, Doermer School of Business 
IPFW Lifetime Achievement Award Pre-K-12
Vicki Aniton, Early Childhood Alliance Beacon Learning Center
Pre-School Teacher 
Questa Education Foundation Teacher of the Year
Mike Biers, Indiana Tech
Adjunct Professor, College of Engineering 
IPFW Leadership Award Higher Education
John Milliken, Trine University
Professor, Department of Criminal Justice, Psychology and Social Services/Assistant VP for Academic Services 
IPFW Leadership Award Pre-K-12
Amy Scott, Ascension Lutheran School
1st Grade Teacher  
IPFW Emerging Star Award
James Canino, Trine University
Associate Professor, Wade Department of Mechanical and Aerospace Engineering 
IPFW Innovation in Teaching Award
Brenda Fleetwood, Wolf Lake Elementary 
5th Grade Teacher 
Principal of the Year
Tiffanney Drummond, Huntington County Community School Corporation
Director of Career & Technical Education
Art Teacher of the Year
Laurel Campbell, IPFW 
Associate Professor of Art Education/Director of Art Education 
IPFW Counselor/Student Advocate of the Year
Alyssa Juday, West Noble Primary 
School Counselor 
Language Arts Teacher of the Year
Joe Camp, Fremont High School
English Teacher 
Mathematics Teacher of the Year
Andrew Nash, Wayne High School
Mathematics Teacher
Music Teacher of the Year
Mark Kays, Trine University
Director of Instrumental Music 
Outstanding Contribution to Special Needs Children
Michelle Casiano, Holland Elementary
Teacher Resource Interventionist 
Science Teacher of the Year 
Benjamin Shappell, Leo High School
Biomedical Science – Project Lead the Way Teacher
Social Studies Teacher of the Year
Matthew Mertes, North Side High School
Social Studies Teacher 
Early Childhood Teacher of the Year
Martha Shul, Good Shephard United Methodist Church Pre-School
Preschool Teacher 
Teaching Excellence in Sports
Bill Maddock, Trine University
Associate Professor, Ketner School of Business