Former astronaut and first African-American to walk in space to speak at commencement
March 13, 2017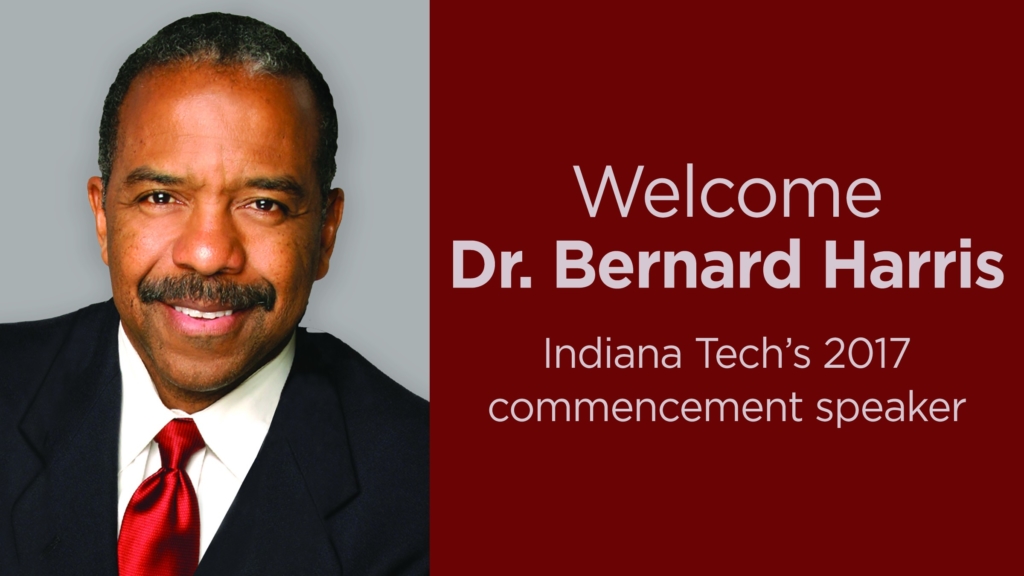 Dr. Bernard A. Harris, Jr., the Chief Executive Officer and Managing Partner of Versalius Ventures, Inc. and former NASA astronaut, will be the speaker for Indiana Tech's commencement at Allen County War Memorial Coliseum on Saturday, May 13, at 10:30 a.m.
Selected into NASA's Astronaut Corps in 1990, Dr. Harris logged more than 438 hours and traveled over 7.2 million miles in space during his time as an astronaut. As Payload Commander on Space Shuttle Discovery STS-63 mission in 1995, he served on the first flight of the joint Russian-American Space Program and became the first African-American to walk in space. While serving at NASA, Dr. Harris conducted research in musculoskeletal physiology and disuse osteoporosis, conducted clinical investigations of space adaptation, and developed in-flight medical devices to extend astronaut stays in space.
Currently, Dr. Harris serves as CEO and Managing Partner of Versalius Ventures, Inc., a venture capital firm that invests in health care technologies and companies. Prior to Versalius, Dr. Harris worked with Vanguard Ventures, a venture capital firm focused on life sciences, information technology and telecommunications.
Dr. Harris is a member of the Board of Directors for U.S. Physical Therapy (NASDAQ: USPH), E-Cardio, Monebo Technologies, American Institute of Minimally Invasive Surgery and the Space Agency.  Dr. Harris also serves as a director of a number of investment funds, including The Endowment Fund, Salient Absolute Return Fund, Salient MLP & Energy Infrastructure Fund, Salient Midstream & MLP Fund and Salient MF Trust, and the Board of Trustees of Babson Capital Global Short Duration High Yield Fund.
Dr. Harris is also the founder of the Harris Foundation, a non-profit organization that supports math and science education and crime prevention programs for America's youth. He serves on the boards of the Houston Technology Center, the National Space Biomedical Research Institute, the Board of Scientific Counselors, HealthConnect and the National Math and Science Initiative.
Dr. Harris earned a Bachelor of Science in Biology from the University of Houston, a Master of Medical Science from the University of Texas Medical Branch at Galveston, a Master of Business Administration from the University of Houston, and a Doctorate of Medicine from Texas Tech University School of Medicine. He completed a Residency in Internal Medicine at the Mayo Clinic, a National Research Council Fellowship in Endocrinology at the NASA Ames Research Center and trained as a Flight Surgeon at the Aerospace School of Medicine, Brooks Air Force Base. He is also a licensed private pilot and certified scuba diver.
"Dr. Harris is a highly accomplished businessman, scientist and community leader," said Indiana Tech President Arthur E. Snyder. "All of us in the Indiana Tech community are proud that he will be with us on our best day of the year – commencement day – to share his experiences and inspirational message with our students."