Graphicanos, now in the D'Agostino Art Gallery
September 13, 2017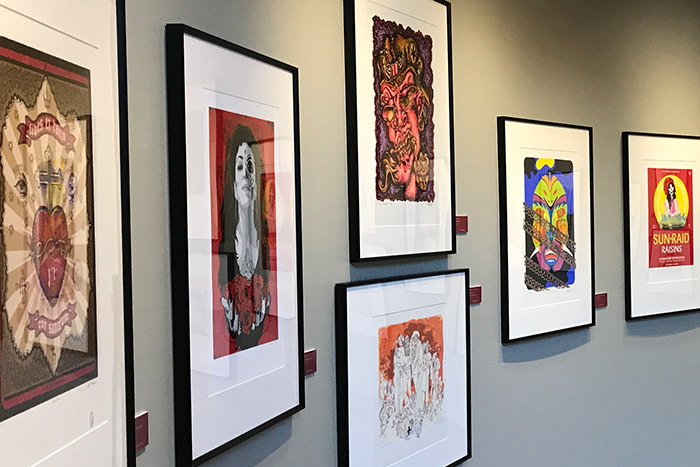 "Graphicanos: Contemporary Latino Prints from the Serie Project" is now on display in Indiana Tech's Franco D'Agostino Art Gallery. This exhibit will be on display until early-November.
This visually intense exhibition presents an array of contemporary fine art prints by Latino artists who have created their work in collaboration with artist Sam Coronado's Serie Project in Austin, Texas.
When Sam founded the Serie Project in 1993, he envisioned a workshop where underrepresented artists could benefit from collaboration and learn the serigraphy technique. In the last two decades, the organization has fostered more than 250 artists from different experience levels and ethnic backgrounds, who, together, have produced a rare and special collection of serigraphs.
More than just a program dedicated to the creation of contemporary art, the Serie Project is intended to have a long-lasting impact on the lives and careers of the participating artists, and on the community, as a whole. The project's achievement of social change comes from facilitating socio-economic progress in the lives of its artists and from the connectivity the project fosters in the Latino and other cultural communities. In 1998, the project helped found the Mexic-Arte Museum in Austin, Texas, and in 2002, the project became one of the founding members of Consejo Gráfico, the first nationally recognized consortium of Latino printmakers in the United States.
The D'Agostino Art Gallery is open seven days a week: Monday through Friday, 8 a.m.-6 p.m.; Saturday from 7:30 a.m.-noon; and Sunday from 4-6 p.m. It is located on the lower level of Indiana Tech's Academic Center. The collection is part of the Fort Wayne Museum of Art's traveling exhibition.