Ground is broken for Indiana Tech's new indoor track and field facility
October 29, 2021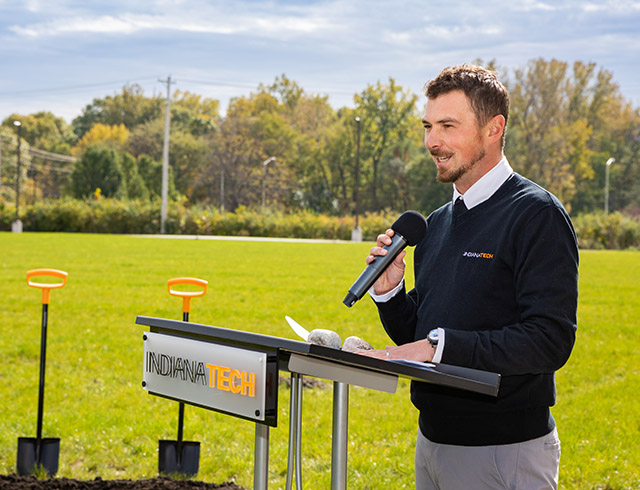 Members of the Indiana Tech community—including alumni, members of its board of trustees, faculty, staff and students—joined local dignitaries at Warrior Park on Thursday, Oct. 28, to celebrate the beginning of the Doug Edgar Indoor Track project.
The groundbreaking comes roughly five months after it was announced Indiana Tech had received a $4 million donation from an anonymous local donor to build the facility. In September, the university revealed the facility would be named—at the suggestion of the donor—after its men's and women's track and field coach, Doug Edgar.
Under Edgar's leadership, Indiana Tech has become one of the nation's top track and field programs. He started with the Warriors as an assistant coach in 2008, and was promoted to head coach in 2010. In the years since, Indiana Tech has won 14 NAIA national championships in indoor and outdoor track and field, across men's and women's competitions. He has been named the NAIA coach of the year 11 times, and under his leadership the track and field programs earned three consecutive NAIA Program of the Year honors from the U.S. Track and Field and Cross Country Coaches Association, from 2015-16 to 2017-18.
The facility will include a six-lane competition track installed by Beynon Sports, an industry leading manufacturer of track and field/athletic surfaces. The interior of the track will have a turf surface, which will allow other athletic teams to utilize the space. The facility is expected to be complete in time for the indoor track and field season starting in the fall of 2022.