Indiana Tech acquires second EOS additive manufacturing system
June 2, 2023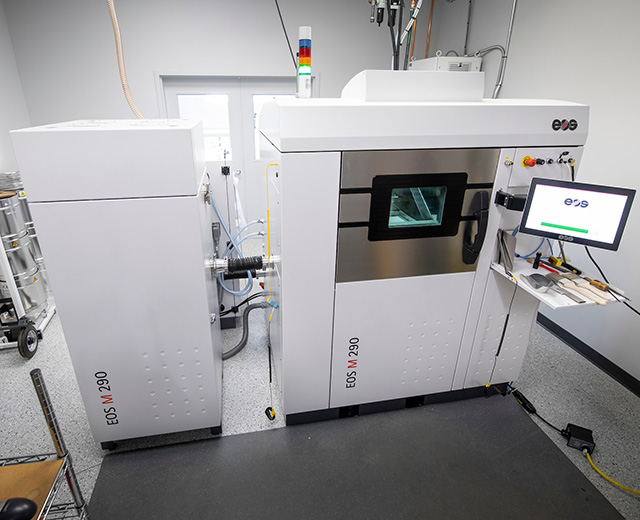 Indiana Tech has acquired its second EOS industrial 3D printer, the FORMIGA P 110 Velocis, as part of its Zollner Engineering Center expansion and renovation for the Talwar College of Engineering and Computer Sciences program. The new polymer Selective Laser Sintering (SLS) 3D printer complements Indiana Tech's prior investment of its EOS M 290 Direct Metal Laser Sintering (DMLS) metal 3D printer in September 2022, as a tool for its biomedical and advanced manufacturing programming and new additive manufacturing certificate.
Indiana Tech began acquiring additive manufacturing (AM) technology as part of its large $21.5 million expansion and renovation of the Zollner Engineering Center, increasing educational access to state-of-the-art engineering training and equipment within the university's Talwar College of Engineering and Computer Sciences programs. The expansion is set to be complete in October 2023, nearly doubling the size from its previous structure.
Indiana Tech plans to provide a unique advantage to engineering students with the purchase of EOS' technology, being one of the only universities in Indiana to provide access to both polymer and metal AM technology. As the Talwar College of Engineering and Computer Sciences expands, Indiana Tech plans to increase AM educational offerings and programming for incoming students.
"3D printing will have a massive impact on advanced manufacturing by decentralizing production, improving product customization and resource efficiency, and reducing complexity," said Dr. Ying Shang, dean of the Talwar College of Engineering and Computer Sciences at Indiana Tech. "As northeast Indiana grows its advanced manufacturing potential, the region's workforce will need new knowledge and skill sets in additive manufacturing. With the two new additions of innovative EOS 3D printers and additional 3D printers for carbon fiber and other composite materials, Indiana Tech will become the leading institution in the nation for developing new talent in additive manufacturing for automotive, medical device, aeronautical applications and more."
The purchase of the EOS M 290 and FORMIGA P 110 Velocis systems were made possible, in part, by support from a private alumni donor and the university's grant awards, specifically the U.S. Department of Commerce's Economic Development Administration (EDA) $1.5 million grant to support workforce training efforts. The EDA funding is a part of the American Rescue Plan Economic Adjustment Assistance program, expected to create 700 jobs, and retain 100 as a direct result of purchasing technical equipment, such as EOS AM systems.
"As additive manufacturing begins to play a larger role in U.S. manufacturing, it is crucial we prepare the next generation of STEM for the shift in engineer training," said Greg Hayes, SVP of applied technology at EOS North America. "Amid ongoing AM adoption and government investment into the technology, we feel confident that use of our printers will give Indiana Tech students the tools and competitive advantage needed to bolster the workforce and push the boundaries of what we can accomplish with industrial 3D printing."
About EOS
EOS provides responsible manufacturing solutions via industrial 3D printing technology to manufacturers around the world. Connecting high quality production efficiency with its pioneering innovation and sustainable practices, the independent company formed in 1989 will shape the future of manufacturing. Powered by its platform-driven digital value network of machines and a holistic portfolio of services, materials and processes, EOS is deeply committed to fulfilling its customers' needs and acting responsibly for our planet.