Indiana Tech computer science major is recognized as state's intern of the year
March 6, 2017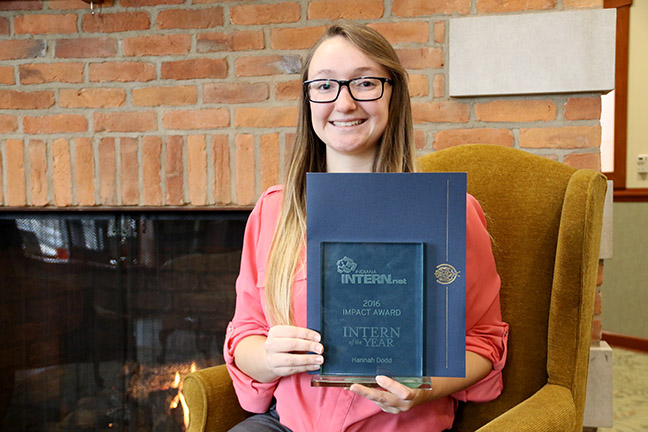 Indiana Tech junior computer science major Hannah Dodd has been named one of two college students to earn Intern of the Year honors from Indiana INTERNet. Dodd was one of 68 nominees for the award, which she received during the 11th annual IMPACT Awards on Feb. 8 in Indianapolis.
Dodd was a full-time intern with the City of Butler, Indiana's GIS (Geographic Information Systems)/IT Department May 16-Aug. 19, 2016. She currently serves the city as a part-time intern, working 12-15 hours per week since the beginning of the 2016-17 school year.
"It's a great honor to win this award; I was very surprised when I heard them call my name and I'm grateful that my coworkers, friends and family were there celebrating with me," Dodd said. "I wouldn't have won the award without their love and support."
City of Butler GIS/IT Coordinator Jim Otis, her supervisor during her internship, said that Dodd was able to contribute meaningfully to projects in only a few days and with very little training.
"She showed right away that she was not only willing to accept responsibility but could be depended upon to act skillfully and responsibly in whatever she was given to do," Otis said. "Her ability to learn, to understand the purpose and focus on what we do here, and her strong work ethic made her an integral and indispensable part of the team within only a week or two."
Dodd's motivation and work ethic as a student has earned her induction into Indiana Tech's chapter of the Alpha Chi national honor society. She is also a member of the Warriors' varsity tennis team.
"It's hard for me to imagine how I could be more pleased with an intern," Otis said. "I would, without hesitation, offer Hannah a permanent position if I had one to give her."
Indiana INTERNnet is a free internship-matching program managed by the Indiana Chamber of Commerce. It links employers, students, high schools, colleges and universities. The goal of Indiana INTERNnet is to expand the creation and use of experiential learning opportunities as a key strategy in retaining Indiana's top talent.