Indiana Tech opens new Doug Edgar Indoor Track at Warrior Park
January 20, 2023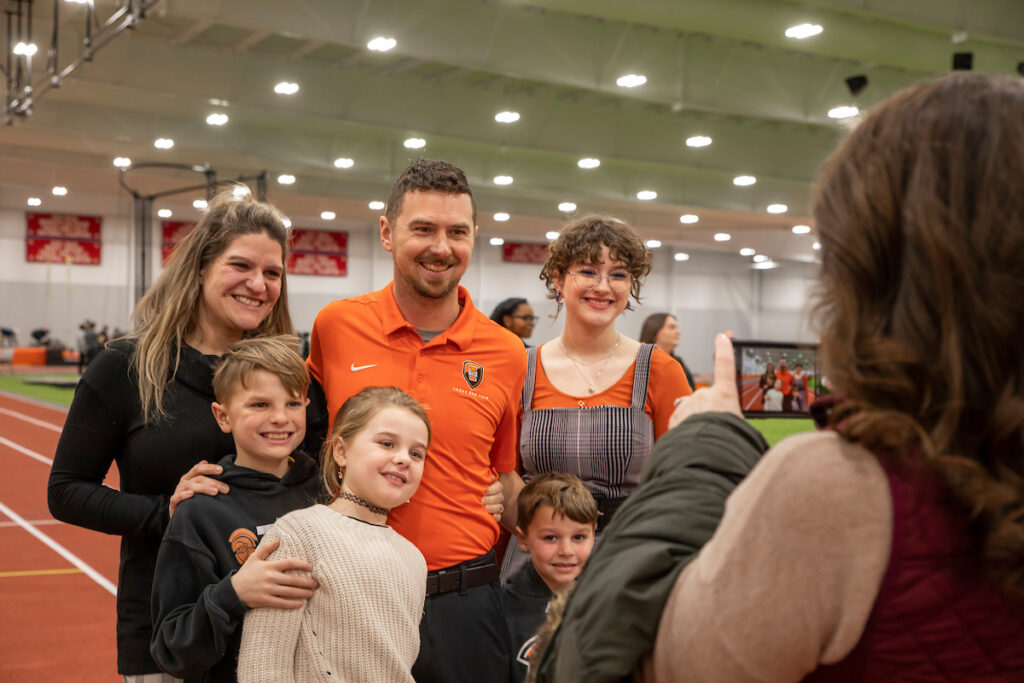 The new Indiana Tech indoor track and field facility at the university's Warrior Park athletic complex opened on Friday, Jan. 20, 2023. Named in honor of Indiana Tech men's and women's track and field head coach Doug Edgar, the $6.5 million project was made possible in large part through a $4 million donation from an anonymous local donor. First announced in May 2021, the Doug Edgar Indoor Track includes a six-lane competition track installed by Beynon Sports, an industry leading manufacturer of track and field/athletic surfaces. The interior of the track has a turf surface, which allows other athletic teams to utilize the space as well.
The university celebrated the opening of the new venue with a ribbon-cutting ceremony attended by community leaders, university alumni, and current Indiana Tech students, faculty and staff members. Featured speakers at the event included Indiana Tech President Karl W. Einolf, Fort Wayne Mayor Tom Henry, and Coach Doug Edgar. Later in the afternoon, the Indiana Tech men's and women's indoor track teams hosted their first-ever meet at the new facility.
The facility's name was suggested by the anonymous major donor, in honor of Coach Edgar's leadership of the program and his work on behalf of Indiana Tech student-athletes since joining the university. Edgar started with the Warriors as an assistant coach in 2008, and was promoted to head coach in 2010. In the years since, Indiana Tech has won 14 NAIA national championships in indoor and outdoor track and field, across men's and women's competitions. He has been named the NAIA coach of the year 11 times, and under his leadership the track and field programs earned three consecutive NAIA Program of the Year honors from the U.S. Track and Field and Cross Country Coaches Association, from 2015-16 to 2017-18.
Indiana Tech President Karl W. Einolf, Ph.D., said, "The opening of the new Doug Edgar Indoor Track is an exciting day for all of us at Indiana Tech. This wonderful new venue will help our highly successful men's and women's track teams reach even greater heights, and will be a terrific addition to the Fort Wayne sports landscape. I'm tremendously grateful to our anonymous donor for their support of our students and our university, and to our entire team for their work on this impactful project."
In the photo: Doug Edgar poses with his wife, Samantha, and their children.