Indiana Tech Opens New Entrepreneur Center
August 12, 2014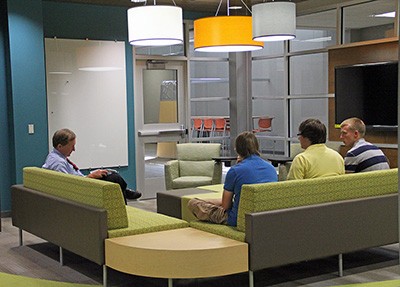 Fort Wayne, Ind.—Indiana Tech announced today that the university's new entrepreneur center, the Center for Creative Collaboration (the C3) is now open. The C3 will provide entrepreneurs with rapid, targeted, and effective assistance in all phases of business startup, operation, and growth.
The C3, located in Indiana Tech's new Academic Center on its main campus in Fort Wayne, will assist clients by matching their needs with an experienced team of Indiana Tech faculty and staff from across the university, along with business mentors from around the region. The process for each client starts with an assessment of their business concept and its potential for success and growth in its particular marketplace. From there, the C3 project team and the client collaborate on developing and implementing the plan that will carry the client's business forward.
The C3 is unique in that its client service teams are drawn from both the university and the business community at-large. Indiana Tech faculty and staff from all four the university's colleges – business, engineering, general studies, and law – serve on client project teams based on the needs of the client. From the wider community, the C3 recruits client mentors with wide-ranging experience. C3 mentors have started their own businesses, managed large operations, served in community and economic development organizations, provided venture funding to startups, and much more.
Lilly Endowment, Inc. has supported the launch and first three years of operations of the C3 through a $500,000 grant awarded in December 2013. Thanks to this support, the C3 will be able to offer its services free of charge to clients during its current launch phase. A sampling of the services that the C3 may provide to clients includes:
Business formation and structure
Business model development
Recommendations on competitive strategy
Technology advice
Industrial and manufacturing engineering
Legal services
Intellectual property
Market feasibility studies
Market research
Marketing plan development
Product prototyping
Venture capital partnership development
Seed funding
"Being an entrepreneur can be difficult and challenging, yet rewarding in a wide variety of ways," said Mark Richter, executive director of the C3 and vice president for special projects at Indiana Tech. "Often, the difference between success and failure is measured in the help you receive along the way. That's why we created the C3 – to provide the help that will make such a difference to entrepreneurs around our region."
Dr. Arthur Snyder, president of Indiana Tech, noted that the C3 will benefit not only entrepreneurs, but also the wider regional economy and Indiana Tech students as well. "Across our university, we have students from all walks of life, wide-ranging ages and backgrounds. If they have the drive and goal to start their own business, the C3 can help. There will also be opportunities for students to work on C3 client projects, and see firsthand how ideas grow into successful companies."
"Second, it's important to all of us here at Tech to contribute to the vitality and growth of our region," Snyder continued. "By helping C3 clients establish and grow successful businesses, we're helping create a better economic environment for everyone. This circles back to students, too – more successful businesses means more career opportunities for them once their studies at Tech are done."
For more information on the C3, please contact Mark Richter at 260.399.2816, mhrichter@indianatech.edu, or visit www.theC3.com.