Indiana Tech partners with Lafayette, Indiana-based Wabash National Corporation
July 22, 2017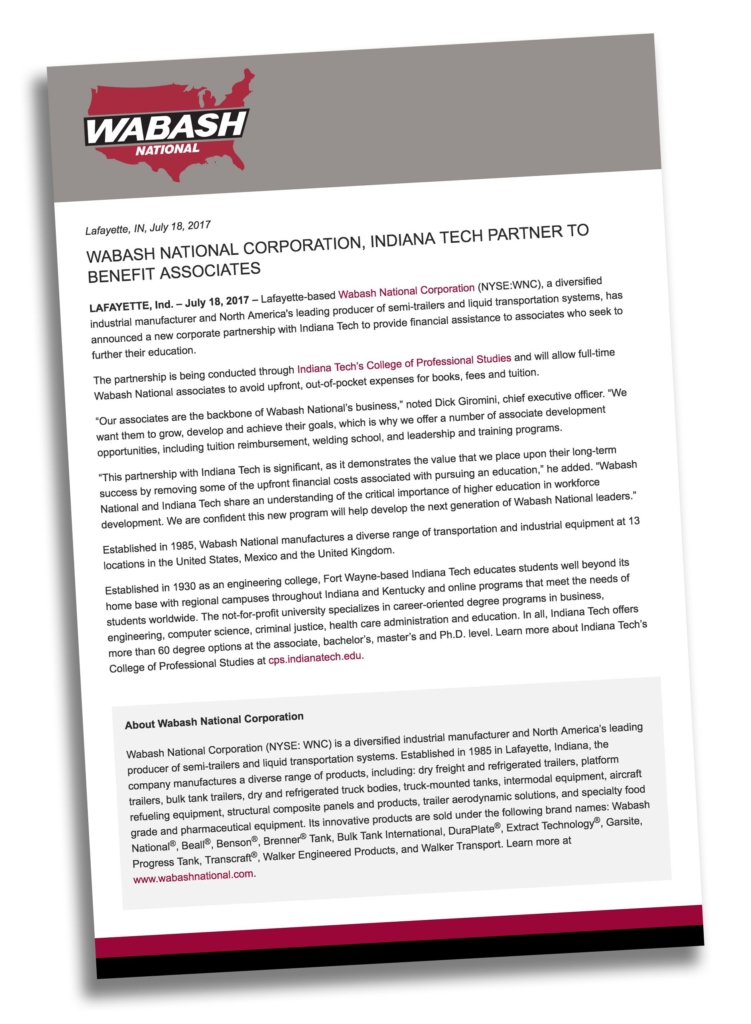 On July 18, 2017, Indiana Tech joined into a corporate partnership with the Lafayette, Indiana-based Wabash National Corporation that will help its employees pursue their educational goals. More information can be found about the partnership in the text from Wabash National's media release below.
Indiana Tech salutes Wabash National for the emphasis it places on education. We look forward to helping your associates pursue their educational goals and enrich their lives. Thank you for partnering with us!
Indiana Tech can help your company enrich the lives of its employees while strengthening its workforce, as well. Education can make it happen. Contact Gregory Perigo, MSM, Indiana Tech director of strategic business partnerships, to learn more. 260.422.5561, ext. 2463, or GJPerigo@IndianaTech.edu.
Text from Wabash National Corporation's media release of July 18, 2017:
LAFAYETTE, Ind. – July 18, 2017 – Lafayette-based Wabash National Corporation (NYSE:WNC), a diversified industrial manufacturer and North America's leading producer of semi-trailers and liquid transportation systems, has announced a new corporate partnership with Indiana Tech to provide financial assistance to associates who seek to further their education.
The partnership is being conducted through Indiana Tech's College of Professional Studies and will allow full-time Wabash National associates to avoid upfront, out-of-pocket expenses for books, fees and tuition.
"Our associates are the backbone of Wabash National's business," noted Dick Giromini, chief executive officer. "We want them to grow, develop and achieve their goals, which is why we offer a number of associate development opportunities, including tuition reimbursement, welding school, and leadership and training programs.
"This partnership with Indiana Tech is significant, as it demonstrates the value that we place upon their long-term success by removing some of the upfront financial costs associated with pursuing an education," he added. "Wabash National and Indiana Tech share an understanding of the critical importance of higher education in workforce development. We are confident this new program will help develop the next generation of Wabash National leaders."
Established in 1985, Wabash National manufactures a diverse range of transportation and industrial equipment at 13 locations in the United States, Mexico and the United Kingdom.
About Wabash National Corporation
Wabash National Corporation (NYSE: WNC) is a diversified industrial manufacturer and North America's leading producer of semi-trailers and liquid transportation systems. Established in 1985 in Lafayette, Indiana, the company manufactures a diverse range of products, including: dry freight and refrigerated trailers, platform trailers, bulk tank trailers, dry and refrigerated truck bodies, truck-mounted tanks, intermodal equipment, aircraft refueling equipment, structural composite panels and products, trailer aerodynamic solutions, and specialty food grade and pharmaceutical equipment. Its innovative products are sold under the following brand names: Wabash National®, Beall®, Benson®, Brenner® Tank, Bulk Tank International, DuraPlate®, Extract Technology®, Garsite, Progress Tank, Transcraft®, Walker Engineered Products, and Walker Transport. Learn more at www.wabashnational.com.