Indiana Tech is pleased to announce Rev. Charles R. Harrison will be this year's commencement speaker
March 5, 2018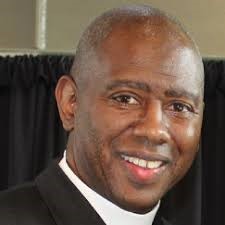 Indiana Tech is pleased to announce Rev. Charles R. Harrison will be the university's commencement speaker during our annual commencement celebration on May 12 at Allen County War Memorial Coliseum in Fort Wayne.
A native of Jeffersonville, Indiana, Rev. Harrison is an inspiring leader who is the president of the board of the Indianapolis Ten Point Coalition, whose mission is to reduce urban youth violence and to address critical economic and social issues in Indianapolis and surrounding areas. He has spent over 30 years in ministry, serving as senior pastor of Barnes United Methodist Church in Indianapolis since 1993.
The Indianapolis Ten Point Coalition serves as a model for communities across the nation, and is known for its "boots-on-the-ground" approach to reducing violence, increasing employment, and enhancing educational opportunity and achievement. In 2016, the Ten Point Coalition was honored with the national FBI Director's Community Leadership Award, given annually to individuals and organizations who have demonstrated outstanding contributions to their local communities through service.
Rev. Harrison's personal story is inspirational as he overcame challenges in his life to answer the call to take action in his own community. He is a strong advocate for education, and he will motivate Indiana Tech graduates to take advantage of the opportunities they now have to make a difference in our world – to embrace our university's mission and to lead lives of significance and worth.
In addition to his ministry and his community service with the Ten Point Coalition, Rev. Harrison serves as a Chaplain for the Indiana State Police, and on the boards of directors for Metro Ministry and the Board of Ordain Ministry of the South Indiana Conference of the United Methodist Church, among others. During his career, he has been honored with the Sagamore of the Wabash award, the Distinguished Hoosier Award, the Dr. Martin Luther King, Jr. Leadership Award, the Ecumenical Service Award, and numerous other recognitions.
Rev. Harrison holds a bachelor's degree in Religious Studies from Indiana University and his Masters of Divinity from the Methodist Theological School.
Learn more about Rev. Harrison's Ten Point Coalition here indytenpoint.org.