Indiana Tech welcomes Kristin Conley to its Ph.D. team
January 27, 2018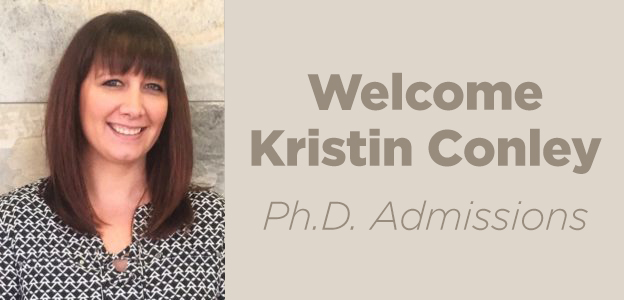 Kristin Conley has been hired as admissions representative of Indiana Tech's Ph.D. in Global Leadership program. Conley's role will include providing a top-notch on-boarding experience for Indiana Tech Ph.D. students and promoting the university's doctoral program, which is one of only a few offered in the region.
"Kristin brings quality higher-ed experience to this role and a drive and personality that will help her succeed," said Ph.D. program director Dr. Elaine Pontillo. "We are extremely pleased to have her on our team."
Conley was the regional campus director of Trine University Indianapolis before coming to Indiana Tech. She was with the university since 2010.
Conley has a Master of Science in Leadership with a concentration in Instructional Leadership, Higher Education from Trine. Her undergraduate degree is in media and public communications from IPFW. Recently, she was accepted into the Young Leaders of Northeast Indiana's 2018 Leadership Institute class.
Indiana Tech's Ph.D. in Global Leadership was launched in 2009 as northeast Indiana's first doctoral program. Since then, 55 students have graduated, while 164 are currently in the program. The online program features two tracks: organizational management for those seeking leadership roles in the for-profit and not-for-profit sectors, and academic administration for those seeking leadership roles in higher education.
Online delivery of all classes.
Elective enrollment format for flexibility (not a cohort model).
Six entry points each year for program enrollment. In fact, the Spring 2 session begins March 11. Learn more at IndianaTech.edu/PhD. Or, connect with Kristin Conley at phd@indianatech.edu, or 800.288.1766, ext. 3417.
Residency of one weekend in Fort Wayne per 12-month period.
Optional global travel practicum course opportunities.
Learn more about Indiana Tech's Ph.D. in Global Leadership Program at IndianaTech.edu/PhD.