Jasmine Hiss: An example of Indiana Tech's mission in motion
January 19, 2018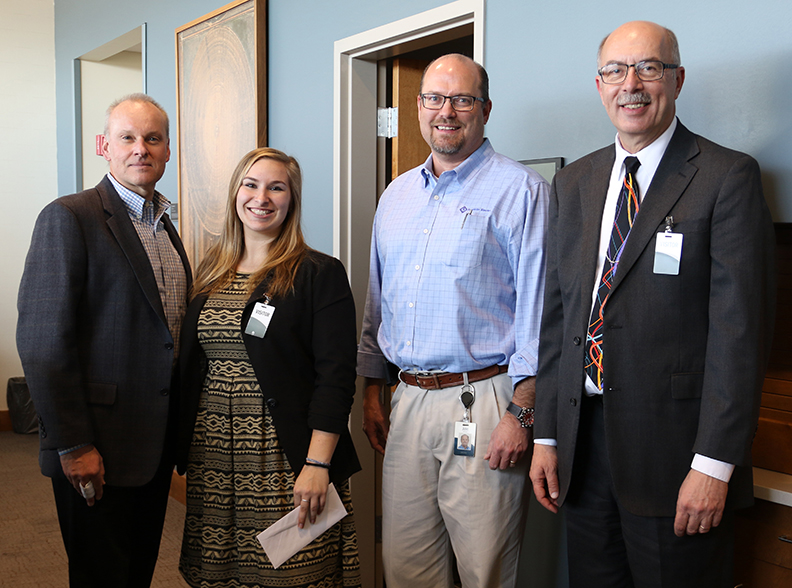 Indiana Tech prides itself on preparing its students for active participation, career advancement and leadership in the global 21st century society and motivating them toward lives of significance and worth.
On Thursday, Jan. 18, mechanical engineering student Jasmine Hiss became an example of Indiana Tech's mission in motion. Jasmine, a junior from Columbia City, Indiana, earned an impressive engineering scholarship from Franklin Electric of Fort Wayne.
Franklin Electric's scholarship program funds up to two consecutive academic years for eligible students. Each scholarship pays $5,000 per academic year, payable at $2,500 for each completed semester for a total scholarship of up to $10,000. This scholarship also includes a paid summer internship position between the recipient's junior and senior academic year.
"Receiving this scholarship has been incredibly amazing and exciting. I can't express my appreciation enough to Franklin Electric for providing this scholarship," Jasmine said. "I've worked really hard my whole life, but without the amazing teachers, professors and mentors I've had, there's no way I would have received this scholarship. This entire experience has been fantastic, and I can't thank Franklin Electric and Indiana Tech enough."
At the time she applied for the scholarship, Jasmine had a 3.97 GPA. She is a member of the Alpha Chi Honor Society and has consistently been on the dean's list. Several ringing endorsements from Indiana Tech professors accompanied her application for the Franklin Electric scholarship, one of which included this comment about Jasmine's worthiness:
"For a college student, one of the most commonly looked at metrics for potential is GPA. A look at Jasmine's GPA will communicate a lot of potential. However, from my point of view, GPA often only communicates test taking ability and/or book smarts. I think better measures of potential are an engineer's ability to learn and their ability to solve problems. The questions that Jasmine asks, both in class and in lab, demonstrate that she wants to more fully understand the concepts covered. Jasmine's work shows a logical process for solving problems."
In the photo: Indiana Tech mechanical engineering student Jasmine Hiss stands with, from left to right, Steven W. Aikman, vice president of Global Water Systems Engineering; Jim Volk, director of engineering for new product development; and David Aschliman, dean of Indiana Tech's College of Engineering.
THE INDIANA TECH MISSION: Indiana Tech provides learners a professional education; prepares them for active participation, career advancement, and leadership in the global 21st century society; and motivates them toward a life of significance and worth.
ABOUT FRANKLIN ELECTRIC: Founded in Bluffton, Indiana, in 1944, Franklin Electric has grown from a small motor manufacturing company into a leading global provider of systems and components for moving water and fuel.