Generous grant from Lilly Endowment Inc. will improve student retention through data analytics
March 31, 2021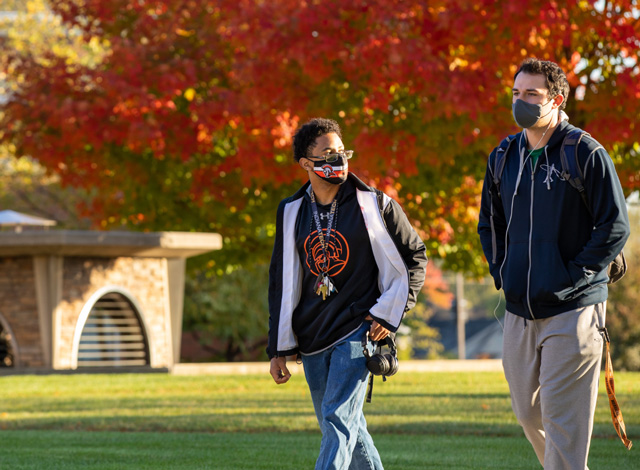 Indiana Tech will benefit from a $9.8 million grant from Lilly Endowment Inc. through the competitive Phase 3 of its initiative, Charting the Future of Indiana's Colleges and Universities. The grant, which will be coordinated by the University of Indianapolis, will support an initiative to improve student retention through the use of data analytics at six institutions of higher education across the state, including the University of Indianapolis, Anderson University, Indiana Tech, Martin University, Saint Mary-of-the-Woods College and the University of Southern Indiana.
Indiana Tech is one of 16 Indiana colleges and universities that will be supported by funding in the final phase of Charting the Future, an initiative designed to help colleges and universities in Indiana assess and prioritize the most significant challenges and opportunities they face as higher education institutions and develop strategies to address them.
Indiana Tech will receive $1.3 million to deploy a predictive model and supportive processes for student retention which were developed by the University of Indianapolis for Phase 2 of Lilly Endowment's Charting the Future of Indiana's Colleges and Universities initiative. The model will be tailored for each school to be responsive to their unique student body, programming and structure. The grant will also include numerous interventions that all six schools will implement to support students who are identified as being at risk by the model. This allows for both early identification and early intervention for students in an effort to improve retention across all six schools, which will work collaboratively to share best practices throughout, maximizing impact and benefit to students.
"Student retention and student success initiatives have long been a priority of our entire team here at Indiana Tech," commented Indiana Tech President Karl Einolf. "By partnering with the University of Indianapolis and schools across Indiana, we will all improve our work on behalf of students. We're excited about this opportunity, and greatly appreciate Lilly Endowment's support of this initiative."
"Indiana's colleges and universities face myriad challenges as they work to fulfill their educational missions while adapting to growing financial pressures, rapid demographic and technological changes, and evolving needs and demands of students," said Ted Maple, the Endowment's vice president for education. "We are pleased with the creative and collaborative approaches the colleges and universities are taking to address these challenges and seize opportunities to better serve their students, institutions, communities and the state of Indiana."
Lilly Endowment launched the three-phased Charting the Future initiative in 2019 to help leaders of the state's 38 colleges and universities engage in thoughtful discernment about the future of their institutions and to advance strategic planning and implementation efforts to address key challenges and opportunities. Collaboration was encouraged, especially in the third phase of Charting the Future, and several schools proposed collaborative programs and strategies. Through three phases of grantmaking, Lilly Endowment awarded more than $138 million to the schools.
Through earlier rounds of the initiative, all 38 schools received planning grants, which were approved in December 2019, and implementation grants approved in June and September 2020. The implementation grants funded strategies to improve efforts to prepare students for successful futures and strengthen the schools' long-term institutional vitality.
About Lilly Endowment Inc.
Lilly Endowment Inc. is an Indianapolis-based, private philanthropic foundation created in 1937 by J.K. Lilly, Sr. and his sons Eli and J.K. Jr. through gifts of stock in their pharmaceutical business, Eli Lilly and Company. Although the gifts of stock remain a financial bedrock of the Endowment, it is a separate entity from the company, with a distinct governing board, staff and location. In keeping with the founders' wishes, the Endowment supports the causes of community development, education and religion. The Endowment funds significant programs throughout the United States, especially in the field of religion. However, it maintains a special commitment to its founders' hometown, Indianapolis, and home state, Indiana.