New website and leadership position reinforce growth of online program
November 5, 2021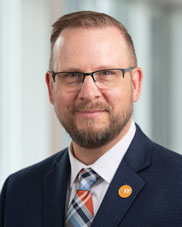 Indiana Tech has created a new academic leadership position at the university, dean of online learning. Dr. Scott Liebhauser, Indiana Tech's current associate vice president for academic affairs, has taken on the new role intended to continue the expansion and refinement of the university's wide range of online programs.
In addition to creating the new dean of online learning position, Indiana Tech has also expanded its online curriculum development team, and will be adding three new online professor of practice positions. The new positions are dedicated to developing online curriculum for new and existing programs, training faculty members in online instruction, teaching online courses, and working on student success and retention.
Indiana Tech has also launched a new website dedicated to its online programs, online.indianatech.edu. Current and potential online students can learn about certificate and degree programs offered by the university, career services, the experiences of other Indiana Tech students and more on the new site.
"Indiana Tech has seen continued growth in new students, and new online academic programs," said Dr. Karl Einolf, Indiana Tech's president. "Our students come to us from around the Midwest, and, increasingly, from around the country, for our unique programs that help them advance their education and their careers. The new positions we are creating will allow us to serve these students even more effectively, now and into the future."
Dr. Scott Liebhauser commented, "Indiana Tech online students are highly motivated to gain the knowledge and skills that will allow them to achieve their goals. At the same time, they are balancing work and family life with their pursuit of education. By increasing our focus on their online experience and expanding our team, we're helping them make the most of their time with us."
Indiana Tech offers online programs at the certificate, associate, bachelor's, master's and doctoral levels, and has seen new online student enrollments grow in recent years. Recently introduced new online programs at the university include supply chain management, construction management, InsurTech, electrical engineering technology, and global health leadership. Indiana Tech's online business programs were named among the top 100 in the nation for 2021 by U.S. News and World Report. The university is also developing new online programs in cybersecurity and information technology.
To learn more about online learning at Indiana Tech, please visit online.indianatech.edu.