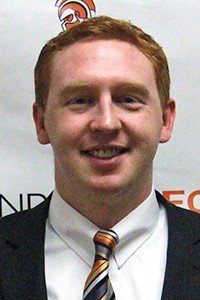 Fort Wayne, Ind.—
Indiana Tech announced today that John Peckinpaugh has been hired as men's head 
basketball 
coach.
Peckinpaugh returns to Indiana Tech after serving as an assistant for the Warriors during the 2012-2013 season. Peckinpaugh served as recruiting coordinator and worked on budgeting, travel, and academic affairs for the team during his previous service at Tech. He was instrumental in recruiting all of the returning Tech players for the 2014-2015 season during this time.
Peckinpaugh rejoins Indiana Tech from Indiana-Purdue Fort Wayne, his alma mater. He served as graduate assistant for the 2013-2014 season, part of a coaching staff that helped the Mastodons achieve the most successful season in program history. IPFW rose as high as No. 19 in the NCAA Division I mid-major poll in 2013-2014 and made it all the way to the Summit League Tournament Championship game.
"We're extremely pleased to welcome John back to the Warrior family," Martin Neuhoff, Indiana Tech athletic director, commented. "He's a proven recruiter and coach who knows how to connect with todays' players. Just as important, he knows what it takes to contribute to the Warrior Pride culture we've built here at Tech – a culture based on responsibility, leadership, and academic achievement as well as accomplishment on the court."
As a player, Peckinpaugh was a starting forward for the IPFW Mastodons from 2009-2012. The blue-collar reputation and strong work ethic he developed there under head coaches Dane Fife and Tony Jasick are qualities he intends to bring to his Warrior teams.
"I expect our teams to out-work and out-hustle every team we play," Peckinpaugh explained. "We'll be a team that is not only exciting to watch, but one that Indiana Tech and the Fort Wayne community can be proud of on and off the court."
Peckinpaugh, an Indiana native, attended the storied Muncie Central High School in Muncie, where he helped the team earn two state runner-up titles and three NCC conference titles.