Photography collection, Human Interest, now on exhibit in the D'Agostino Art Gallery
December 1, 2019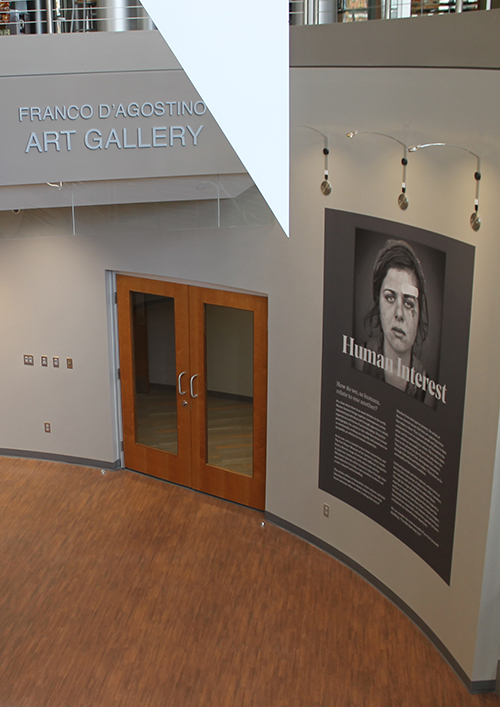 How do we, as humans, relate to one another?
At a time when there is so much division in the world, Human Interest—a collection of photographs curated by the Fort Wayne Museum of Art for Indiana Tech—brings together contemporary artists representing individual self through appearance, beliefs, experiences and forms of social belonging. Using their photographs, the artists in this collection strive to bond us emotionally, evoking our empathy and sometimes our sympathy, as vehicles for human connection.
View Human Interest for free, now through Dec. 13, in Indiana Tech's D'Agostino Art Gallery, located on the lower level of the Snyder Academic Center. The building is open Monday-Thursday, 8 a.m.-10 p.m.; Friday, 8 a.m.-6 p.m.; Saturday, 7:30 a.m.-1 p.m.; and Sunday, 3-9 p.m.
At its core, art is created to form these connections, and The Fort Wayne Museum of Art strives to collect works from a diverse range of artists with different viewpoints to unite our community with others near and far. Whichever lens the artist chooses to shoot through, their main objective is to help us see ourselves in others and create a shared understanding.
The artists reflect on themselves, their cultures and their identities through their chosen subjects. Can we truly know someone when another is telling their story?
Whether from their past or present, the artists of Human Interest ensure that they are capturing stories that relate to them. They choose people and places in their communities to act as representatives of themselves, the artist and the community as a whole. This is what makes these artists so successful: we learn not only about the faces in the photos but also those behind the camera. They provide the first link, sharing one connection through themselves and their subject. They show us the universality of the human condition.
Celebrating people and their cultures, artists invite us into the lives and stories of others that reflect ourselves, our cultures and our identities in unknown faces. Through the range of subjects, visitors are inspired to experience a sense of belonging as they look past the surface and discover how they relate to these strangers. Ultimately shown to pique our interest, the artists have harnessed our voyeuristic culture for a greater purpose: to illustrate our shared human experience.
We can consider the work successful if you find yourself thinking, "I've felt that way too."