Medal of Honor Recipient Sammy L. Davis Comes to Indiana Tech
December 8, 2014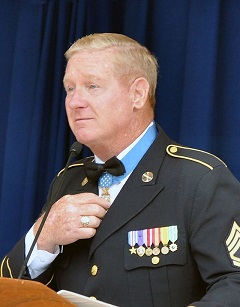 "The Real Forrest Gump" to Speak on Vietnam Service and Long Army Career Congressional Medal of Honor recipient Sergeant Sammy L. Davis will speak about his experiences in Vietnam and his long service in the Army during a visit to Indiana Tech on Tuesday, December 9 at 9:00am. Davis' presentation will take place in the Theater in the Academic Center on the Indiana Tech campus at 1600 East Washington Blvd. in Fort Wayne. The event is free and open to the public; seating is limited and available on a first come, first served basis.
One of only 79 living Medal of Honor recipients, Davis is known as "the real Forrest Gump." Davis received the Medal of Honor from President Lyndon Johnson in November 1968. Years later, footage of the President putting the medal around Davis's neck appeared in the movie Forrest Gump, with Tom Hanks' head superimposed over Davis'. Gump's fictional Medal of Honor citation was also loosely based on Davis' real citation.
The Congressional Medal of Honor is the nation's highest military award. Davis received the honor for his actions during an attack on his unit near Cai Lay in Vietnam on November 18, 1967. Wounded and under fire, Davis rescued three wounded American soldiers, then continued to fight to drive off the enemy once getting the three to safety. He was promoted to sergeant for his actions and received the Medal of Honor the next year.
"While we regularly see fictional 'heroes' on screen, it's less common to have the opportunity meet and hear the story of real heroes like Sgt. Sammy Davis," said Indiana Tech President Dr. Arthur Snyder. "It's an honor for us to have Sammy here to share his story with our students and the community at large."