Tech students and community employers come together to recognize intern accomplishments
May 5, 2023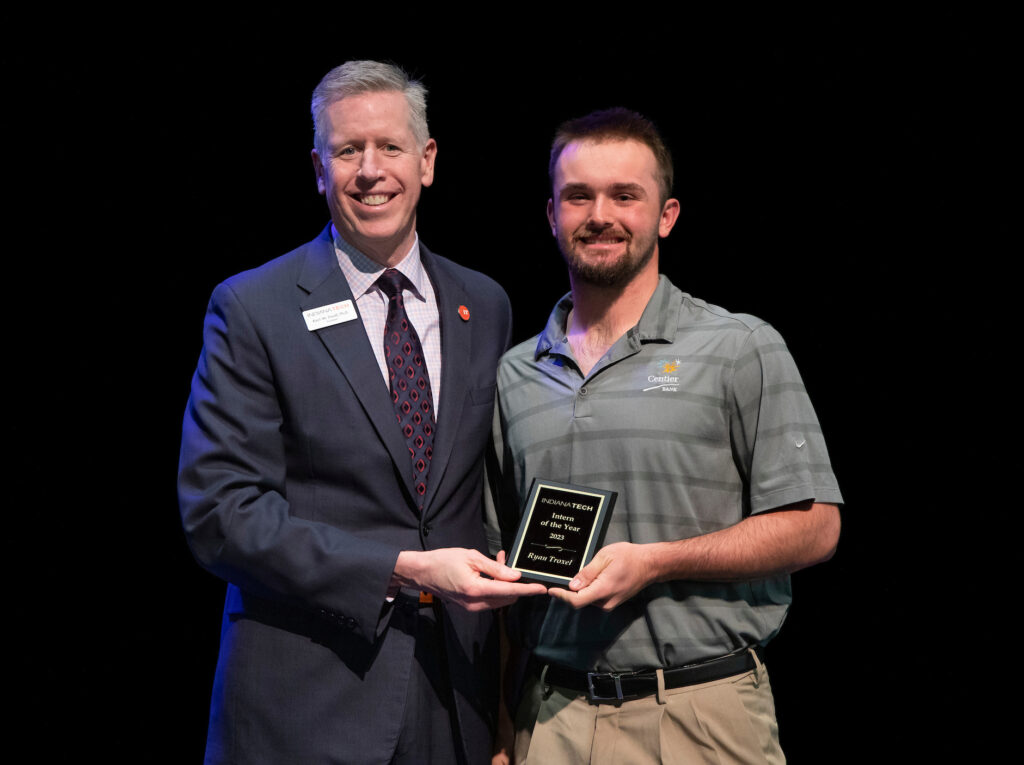 On Wednesday, May 3, Indiana Tech's Career Center hosted its 15th annual RISE (Recognizing Interns, Students and Employers for Outstanding Work) Awards ceremony in the university's Multi-Flex Theater.
"At Indiana Tech, we work hard to stress to our students the value of internships and how they can put one in an advantageous position when it comes time to enter the job market," said Ryan Seiler, assistant director of Indiana Tech's Career Center. "So many—from Career Center staff, to our university faculty to our regional employer-partners—play a significant role in pairing our students with opportunities to apply and expand what they learn in the classroom to real work environments. Many put in a lot of hard work to make it happen, and this is an outstanding event to celebrate the year's accomplishments."
Ryan Troxel was named this year's RISE Intern of the Year. Ryan, a senior finance major, interned with Centier Bank. He was asked to gather insight across three Centier teams about the organizations referral process and identify ways to improve it. He was given a set of questions and asked to interview associates of all levels while shadowing them in their roles. Ryan's supervisor,  senior vice president of Centier, Timothy Coleman, appreciated how Ryan tackled the work with enthusiasm, adding additional questions to the interviews as he worked to ensure he delivered the best possible outcome.
"Once he started at Centier, Ryan immediately confirmed we made the right decision," Colemand said. "He was eager to contribute and find ways to offer actionable results."
Lydia Bowen, vice president of small business banking, added, "He displayed excellent leadership and time management skills. His dedication and hard work were noticed by team members throughout Centier, who praised him for his cheerful outlook and dedication."
Three interns earned honorable mention recognitions:
Amanda Alvarez, for her work at Sandridge Elementary School
Jadon Boyce, for his work at the human resources department of Don Ayres Honda
Jordyn Hartfield, for her work in network/system administration at Steel Dynamics
For earning RISE Intern of the Year honors, Ryan was awarded a $300 Amazon shopping spree for professional clothing and items. Each of the honorable mention selections won a $100 gift certificate to Blue Jacket, a Fort Wayne not-for-profit organization that equips community members with tools and opportunities that prepare them for success in seeking gainful employment. One way Blue Jacket fulfills its mission is to offer professional clothing at an affordable price.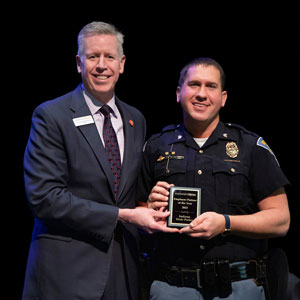 Professor of electrical engineering, Dr. Zakariya Al Hamouz, earned the RISE Faculty of the Year award. Professor Al Hamouz joined Indiana Tech in 2019, bringing with him a style and approach to teaching that enhances the student learning experience and bridges the gap between the classroom and the world of work. As a result, he has secured many industry-funded projects which pave the way for long-term collaboration between industry and academia.
Indiana State Police Sergeant Andrew Kocsis accepted the RISE Employer of the Year award for the Indiana State Police, an organization that regularly engages with Indiana Tech students though career fairs and mock interview opportunities.