At long last, new Warrior Park track and field complex hosts competitors
April 12, 2021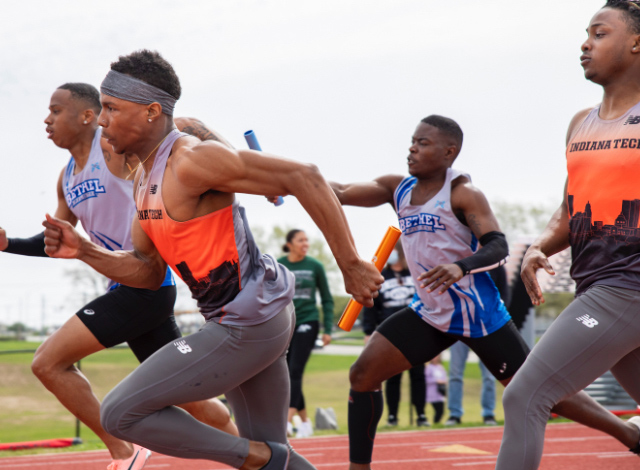 Indiana Tech is known as one of the nation's top-notch collegiate men's and women's track and field programs in the nation. Now, it officially has a stadium to match.
Delayed a year by COVID-19, both Warrior teams got a chance to compete at its new Warrior Park track and field facility for the first time ever on Saturday, April 10.
The women dominated at the Warrior Opener meet, claiming 44 top-10 finishes with 10 personal records and 18 top-25 NAIA finishes. The men also had a phenomenal day, notching 23 top-10 finishes, four personal records and seven NAIA top-25 finishes. For more on the meet, visit the home of Indiana Tech Warriors athletics at indianatechwarriors.com.
Opening day at its new facility has been a long time coming for Indiana Tech's track and field program. Ground broke for Warrior Park on May 4, 2018, nearly two months after Indiana Tech announced its intention to purchase Donald Ross Golf Club and develop the back nine for university athletic teams. The complex is also home to Indiana Tech softball—the program enjoyed its first game there on March 21, 2019—and the men's and women's wrestling programs, which call the on-site Warrior Multipurpose Athletic Building their training home. The front nine of Donald Ross Golf Club is still owned and operated by Indiana Tech.
Over the past 10 years, Indiana Tech's track and field program has amassed 13 national championships. The men's team won the outdoor championship in 2016, 2014 and 2013 and notching indoor titles in 2021, 2019, 2017, 2016, 2015 and 2014. The women won outdoors in 2014 and 2013 and took indoor titles in 2021 and 2017.
Here is a gallery of photos from Indiana Tech's first-ever meet at its Warrior Park track and field complex.