Work on Fort Wayne Trails wayfinding app helps software engineers find their way
March 18, 2018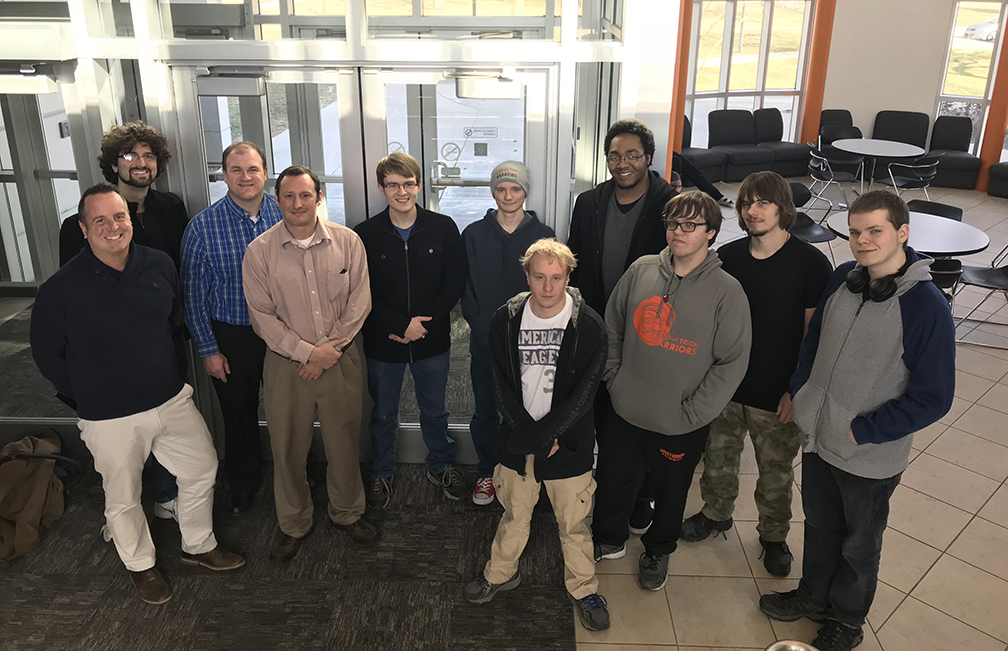 In his field, Brian Lewandowski, assistant professor of software engineering, knows the importance of providing hands-on learning opportunities for his students. So, when Kent Castleman and Anthony Juliano came to him with an idea for his Software Engineering Project III class, Brian was all ears.
Castleman is the executive director of Fort Wayne Trails, which acts as a community partner and advocate in the development of a connected, multipurpose trail system in Allen County, Indiana. Juliano is vice president and general manager of the Asher Agency, an Indiana Tech alum, and he is on the university's alumni board. He is also a FW Trails board member, so when it was determined that building an app would be a good thing for local trail users, he volunteered his agency to help make the not-for-profit's vision a reality.
Juliano planned to have Asher team with FW Trails on the front-end design work. However, finding a partner to do the back-end coding for the app was harder than he expected.
"We hit a brick wall," Juliano said. "But because of my experience in working with Indiana Tech and being very impressed by its software engineering students, I wondered if Indiana Tech would take the project on. Brian Lewandowski was willing and eager to do it. Without him, this would not have happened."
"Students receive the most benefit from real-world projects, so having industry stakeholders involved is always exciting," professor Lewandowski said. "It gives students both professional experience and a true sense of accomplishment that cannot be reproduced by traditional classroom activities."
The initial version of the app will recognize where you are on a trail map as you move, much like the moving dot on GoogleMaps. Later versions will add features like pop-up directions that will notify you of upcoming turns or intersections. There will also be a feature for "trails-friendly businesses" – places where trails users can stop in to use the restroom or refill a water bottle. Future iterations could include adding a layer that shows trails sponsors and push notifications regarding trail closings, detours and other trail-related alerts.
"The team is doing great with the app development. It has been a learning experience not only from a technical standpoint, but also from a client-relations angle," professor Lewandowski said. "Early on in the project, the students lost some valuable time because they did not adequately communicate with the stakeholder what was required of them. It taught them to be more detailed in their requirements gathering, as well as the importance of clear and continuous communication. After the setback, progress picked up and the project goals are being achieved at an increased pace. The team looks forward to delivering a completed quality product to the stakeholders at the end of the semester and banking the lessons learned for their future careers."
The app development team consists of senior Nicholas Peterson, junior James Chandler; and sophomores Cory Capaccio, Andrew Fisher, Brendan Forish, Caleb Lambert and Adam Swanson. Swanson is the project manager.
"Developing this mobile app has been exciting, educational and very tense," Swanson said. "On one hand, we are getting valuable experience by working with important clients on projects that will see real-world use. On the other hand, we have been tasked with creating a fully-functional and well-designed app that will be used by many in the community. This places a lot of responsibility on us to make sure our final product meets the requirements we were given. A project on this scale can be challenging at times, but this allows us to learn what works well and what doesn't, and it shows us how we can improve moving forward.
"This is why hands-on learning opportunities are so important for students: it allows us to use what we've learned in class to create real products. Learning about a topic is one thing; putting it to practical use is another. I believe it's crucial that all students have opportunities to apply what they've learned outside of class," Swanson added.
"I have been so impressed by these Indiana Tech students and what they are capable of. My hope is that this project will be something they are proud of and something they can put on their resume to help them with their careers," Castleman said.
Launch of the app is targeted for June 2, which is the American Hiking Society's recognition of National Trails Day.