At Tech, Forti finds freedom to positively impact the community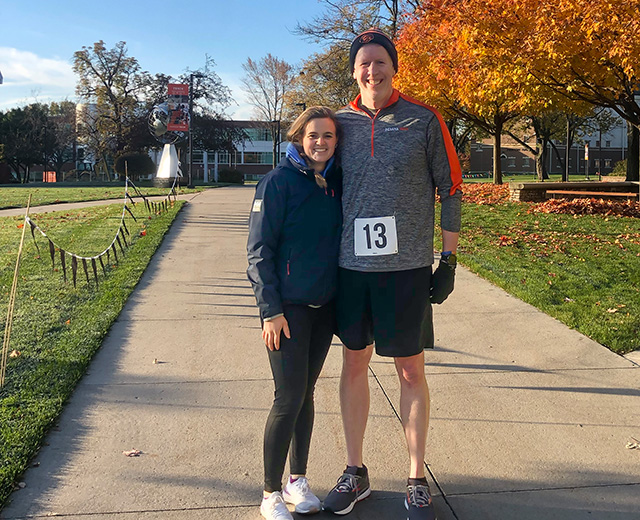 At Indiana Tech, students often amaze themselves by what they accomplish and learn within our classrooms, but for many, it's equally astounding how they are able to learn and achieve.
Just ask Kristen Forti, an industrial and manufacturing engineering major, who will graduate in May 2023.
"If it is important for you to be seen and heard as a student, I recommend considering Indiana Tech," Kristen said. "Students at Indiana Tech are not just numbers in a system. The professors, faculty and staff are encouraging and want to see you succeed. You will have the opportunity to customize your education in a way that works for you and your goals."

Kristen found the Indiana Tech community to be so free and supportive, she organized a campus 5k to supplement Community Harvest Food Bank's annual U Can Crush Hunger campaign—an event where Fort Wayne-area universities come together in a friendly competition to collect food and funds for Community Harvest.
Kristen's first 5k Fun Run to Crush Hunger, held in November 2021, drew 96 participants and netted $1,000 and more than 300 pounds of food for the food bank. The second iteration, held on Nov. 5, 2022, attracted 153 participants and netted $1,305 and 275 pounds of food.
"Organizing the first 5k has been my fondest memory. It had great attendance, and it was super cool to watch my ideas come to life," Kristen said. "I learned so much organizing an event of that size, and I am very grateful for all the volunteers and participants. It was awesome being able to host it on campus so that students would be able to participate."
When Kristen began her educational journey at Indiana Tech, she had no clue she would have the opportunity to create such a positive impact on the university. Now, she understands it's just part of the Warrior Way.
"When you become a Warrior, you'll be encouraged to take initiative and create events, activities, clubs and more that are meaningful to you. All along the way, you will find lessons that cannot be learned in a classroom," she said.