Mutually Beneficial Relationships
When Indiana Tech awards full-tuition scholarships to its Leader Scholars, it adds quality, high-character individuals to the Warrior Nation.
For the better part of a decade, dozens of students have felt the great fortune, the elation and the honor that goes along with earning a full-tuition scholarship from Indiana Tech.Rest assured, those good feelings go both ways.When Indiana Tech awards a Presidential Scholarship or a Gill Scholarship (Tech's two full-tuition scholarships), not only is the university getting an excellent academic performer, it is also adding a compassionate individual of high character with outstanding leadership abilities to the Warrior Nation."The individuals who have won these awards are outstanding people and shining examples of humanity," said Dr. Dan Stoker, vice president for student affairs. "Overseeing the selection process for these scholarships is so gratifying; it's one of the favorite parts of my job at Indiana Tech."Applicants for our Presidential Scholarship must show how they have led within their communities and have a quest to improve their leadership abilities and a desire to help others. This must be done in a two-page essay which describes a time the applicant demonstrated character and/or leadership in his or her community, their role in the action, how others were affected and what they learned from the experience. In addition, minimum academic qualifications include a 3.5 GPA and a 1240 SAT (critical reading and mathematics combined) or a composite ACT score of 26.The H. Robert and Lois Gill Scholarship is named for Robert Gill, a 1960 electronics engineering graduate of Indiana Tech, and his late wife, Lois. Much like recipients of the Presidential Scholarship, Gill Scholars must demonstrate excellence in academics and extracurricular activities, a high level of character, a commitment to community service and the admirable qualities and traits of a good leader. Minimum academic qualifications include a 2.5 GPA, being in the top half of one's class and an SAT score of 1000 (critical reading and mathematics) or a composite ACT score of 22.To keep their scholarships in good standing, winners must agree to adhere to the guidelines of the Indiana Tech Leader Scholars Program. In addition to meeting academic criteria, these guidelines include:
Following a code of conduct, which aligns with the university's core values.
Participating annually in campus-wide service projects that engage Tech students, faculty and staff with the local community.
Attending university functions—as professional development opportunities—to meet and interact with leaders of the university and the community at large.
Being engaged on campus with student organizations, athletic teams or other campus events and functions.
Over the summer, six high school seniors—four Presidential Scholars and two Gill Scholars—earned full-tuition scholarships to attend Indiana Tech this fall. As expected, giving back to others is a common passion among the Leader Scholars of 2020-21."Giving back is important to me because of how it brings a community together," said Bockstahler, who wants to be a computational biologist so she can work with cancer patients. "A community is always there to support one another and being able to add to that atmosphere is crucial. Giving back is also extremely rewarding to all people involved, no matter which side you are on."Perry, who wants to become a veterinary surgeon, echoed Bockstahler's sentiments."Ever since grammar school, I was instilled with the significance of serving your community," she said. "Whether it was helping out at a local food pantry near my house or assisting at an animal shelter, I loved taking part in these activities that directly impacted my community and those surrounding it."Perry is working with the Warriors for Kids organization on campus this year to help raise funds and attention for Riley Children's Hospital in Indianapolis.Bockstahler is planning a Relay for Life at Indiana Tech, which will raise money for the American Cancer Society.Hartmus, who wants to be a mechanical engineer, is in a group working with children at the Boys & Girls Club of Fort Wayne to introduce them to engineering concepts. For her project, she will be helping children build rockets, which will be launched later in the year."Obviously, the opportunity to go to college for free is a very fortunate opportunity for these students and these families, but the gifts these students bring to our university are immeasurable," Dr. Stoker said. "While they are with us, they are exceptional role models, and when they graduate, they go out into the world to have phenomenal careers and lives that make us at Indiana Tech proud."
2020 Presidential Scholars
Jessica Hartmus, Bishop Luers High School, Fort Wayne.
Jessica is pursuing a Bachelor of Science in Mechanical Engineering and is a member of the Warrior's women's lacrosse team. At Bishop Luers, Jessica was part of the school's Catholic Peer Ministry Club and its Knights for Life organization.
Riley Horvath, Jimtown High School, Elkhart, Ind.
Riley is pursuing a Bachelor of Arts in Communication and is a member of the Warriors' first women's wrestling team, which is slated to begin competition this school year. Riley is known in her community for her volunteerism and work with youth groups.
Nina Penny, De La Salle Institute, Chicago.
Nina is pursuing a Bachelor of Science in Biology and is a member of the Warriors' women's volleyball team. Nina earned the Bausch + Lomb Award for excellence in the field of science during her senior year at De La Salle.
Katelyn Sebring, Heritage Junior/Senior High School, Monroeville, Ind.
Katelyn is pursuing a Bachelor of Science in Business Administration, concentrating in management. She is also a member of the Warriors' women's track and field team.
2020 Gill Scholars
Julia Bockstahler, Victor J. Andrew High School, Oak Forest, Ill.
Julia is pursuing a Bachelor of Science in Computer Science and is a member of the Warriors' women's golf team. A passionate volunteer in her community, Julia is president of Julia's Legacy of Hope and she is on the committee for the St. Baldrick's Foundation.
Jared Carr, Perrysburg High School, Perrysburg, Ohio.
Jared is pursuing a Bachelor of Science in Mechanical Engineering and is a member of the Warrior's men's bowling team. Jared is known in his community for his work with veterans, the underprivileged and Special Olympics.A seventh scholarship was awarded, posthumously, to honor the life accomplishments of Lauren Romeo. Lauren, a Hobart, Ind., native, passed away unexpectedly on Jan. 1—days after submitting her application for the scholarship. She was an academically strong candidate who intended to pursue graphic design and play on the women's soccer team.
Leader scholars out in the world
Breanna (Post) Dejonge
Internal Auditor, Franklin Electric, Fort Wayne, Indiana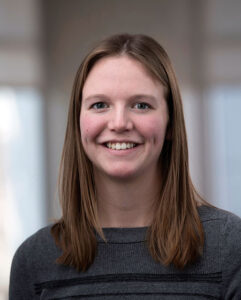 A 2018 graduate with a business degree in accounting, Breanna immersed herself in Presidential Scholarship projects while at Tech and was particularly gratified with her participation in U Can Crush Hunger, a food drive for Fort Wayne's Community Harvest Food Bank that pits local universities against each other in a friendly competition to collect canned goods."We organized a reverse trick- or-treat event throughout the dorms where we went to each room asking for either canned goods or money donations," she said. "The number of students who cleaned out their change collections and small stockpiles of food was amazing to me! I can't remember how much we raised, but it well exceeded our expectations."Giving back has always been important to Breanna, but it became even more impactful after her husband went through a cancer scare earlier this year."I think giving back to the community is the least that I can do after being blessed to live in communities that have done so much for me," Breanna said. "I have had so many people offer to help while my husband was sick, so if I can do anything to make someone else feel as supported as I have felt through all of this, then I will do it. You never know how much a small act of kindness can impact someone else's life, and I think that is truly what life is all about."
Holly (Fox) Glentzer
Special Education Teacher, Lincoln Elementary School, Fort Wayne, Indiana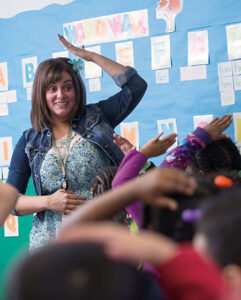 At an early age, Holly learned from her grandfather the significance of volunteering and being a good citizen within the community. That's why giving back has always been a priority for the Presidential Scholar and 2015 Indiana Tech graduate. And, it's no surprise she became a teacher— a role she loves despite its struggles.Few struggles have been more difficult for teachers than trying to teach during a pandemic."I came home in tears for a week straight due to pure frustration of rolling with the ever-changing world of teaching in a pandemic. In the midst of this, I went to a concert, and the lead singer shared that he struggled with ADHD and dyslexia as a child," she said. "It didn't even matter to me what he said after that, because the fact that he struggled with some of the same problems many of my students struggled with, and still made his mark on this world, spoke to me. At that moment I realized I am doing what I am called to do; I am called to give my students a voice and advocate for them. No matter what I may deal with each day, I stay focused on my students."
Joseph Miller
Senior Programmer/Analyst, Indiana Tech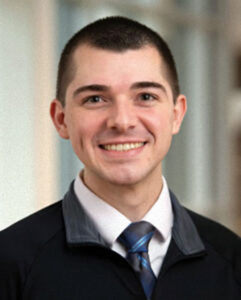 Like Hartmus, Miller worked on a similar rocket project with the Boys & Girls Club during his time on campus. He graduated in 2018 with a degree in computer science and returned a year later to work in the university's information technology department."I am right where I need to be and doing what I enjoy. I enjoy coding and being able to make a difference with students and the university behind the scenes is a great mission to be a part of," Miller said.Regarding his time as a Leader Scholar, Miller said, "It was an honor to be awarded a Presidential Scholarship and it made me want to do my best to have a positive impact on others and to show appreciation for those who helped me achieve it.
Alexandra Forsythe
Currently pursuing a B.S. in Electrical Engineering
Although she will not graduate until 2022, Alexandra, winner of both the Presidential and Gill scholarships, has gained an exorbitant amount of professional experience and skill in a short amount of time at Indiana Tech. In fact, she has pretty much mapped out her career, which culminates with a Ph.D. in Engineering and a university teaching position."Indiana Tech has opened doors for me that would have been impossible at other schools," Alexandra said. "Thanks to the efforts of the professors and staff, I've had internships at NASA, Raytheon, Ultra Electronics and Intel. I've had the opportunity to fly on a corporate jet and meet with the CEO of a Fortune 500 company. Everyone at Indiana Tech genuinely cares about the students and their futures, and they work as a team to help us reach our goals."Though gifted and experiencing a wealth of success at an early age, Alexandra remains grounded. Giving back is quite important to her—she volunteers nearly 350 hours per year to different causes."No one can reach their goals alone, and I could not be where I am today without the help I received from countless people, including everyone at Indiana Tech," she said. "In honor of those who reached their hand down and pulled me up, it is important for me to help the next generation. If we all work together and help one another, we will all be buoyed and rise to the top."