Tech experience helps '21 grad and his friends launch card game
When they were kids, Alex Shinn and his friends, John Jehl and Ethan Sternke, would dream up and create different types of games just for the fun of it.Now, after fleshing out one of their more recent ideas, Shinn, a 2021 marketing graduate from Indiana Tech, and his friends are taking fun and games to a whole new level.During a cross-country road trip, Alex and John created Intel, which according to the group's website, "is a simple yet highly strategic card game about tracking the Agent card and leading others off its trail."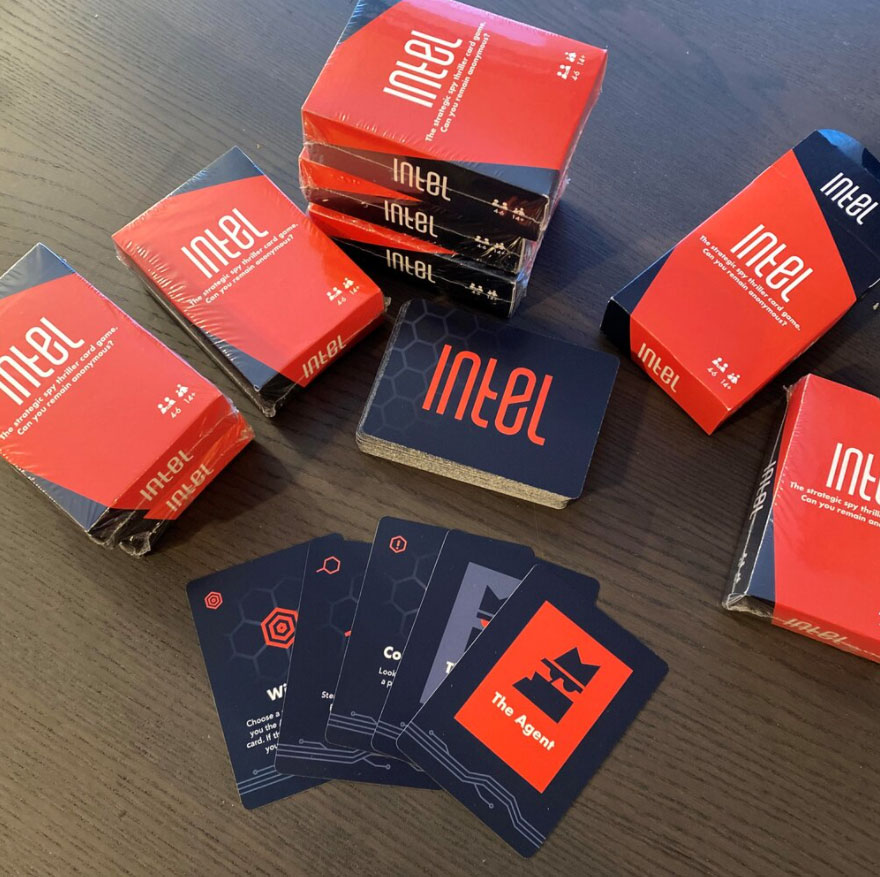 On April 19, the group submitted its idea for Intel on the crowdfunding platform, Kickstarter. A mere 35 hours later, the trio had enough pledges to fully fund its game. The Kickstarter campaign raised more than $17,000 in pledges from 487 backers.
According to the group's website, intelcardgame.com, it is accepting preorders; those and previously ordered games will be filled in October and November.
"We were absolutely blown away with the support we got. When we launched, we were worried if we would even get funded at all, then when that happened in the first 35 hours, we started betting on how far we'd get," Alex said. "I thought maybe we would scratch 200% funding while Ethan bet 150% and John somewhere in the middle. Ending with over 400% funding was crazy to all of us and so much fun to watch as our reach just kept growing."
John, a graphic designer, is the mastermind behind the look and feel of the game.
Ethan, a software engineer, tracked game statistics, helped refine the game's mechanics and created videos to promote the game.
Alex has been the driving force behind the logistics needed to make the game a reality. Many of his findings came as a direct result of what he was learning in the classroom of marketing professor Dr. Staci Lugar Brettin.
He used his BA 3300-Marketing Research class to conduct research and product testing that contributed to multiple design iterations.
He used his BA 3760-Entrepreneurial Planning & Growth class to develop a business plan for the game and a plan for the Kickstarter launch.
He used his BA 3500-Advertising class to design several creative artifacts, including an ad and video that were included in the Kickstarter launch.
He used his BA 3460-Evaluating Start-Up Potential class to explore ownership and intellectual property considerations and develop short-term and long-term action plans.
"Being a part of Alex's journey has been life changing for me and for his student peers. He has taken risks, challenged beliefs about what students can do in a limited time frame and encouraged other students to realize that class time can be used to experiment with new ventures," Dr. Lugar Brettin said. "Alex is prepared to identify, grow and support business in a multitude of ways."
"What was really cool about the classes was that they were all project-based, and Dr. Staci just sort of adopted Intel as coursework. Everyone was hands-on with it so all the course learning objectives were drilled directly into the game, which was a huge help. One example from the Marketing Research class is how we dove into each crowdfunding platform, determining whether we should go with Kickstarter or not. It turned out to be the best option for us based on all the information we found. So many things like that from each class just really helped make the whole thing a reality," Alex said.
"Dr. Staci's support meant the world to me and she honestly saved the project from being doomed to an eternal idea phase. Coming along not only for the classes, but being invested personally really helped me continue to work on everything. Her classes really felt tight-knit and some of us even dubbed her as our 'College Mom.' "
Other faculty members within Indiana Tech's College of Business, Dr. Jeff Walls and professors Gail Amstutz and Trent Grable, helped Alex with invaluable business insight, as well.
Currently, Alex, John and Ethan are waiting on their production run of Intel to finish and get delivered so they can distribute them. Half of their initial order has been spoken for; if they are able to wipe out their remaining inventory after that, they will consider doing another run. The group has a few things in the works, including a party-pack version for larger groups, a print-and-play option for those on a budget, Intel-themed merchandise and yes, another game.
Ten out of 10 times, I would recommend taking a passion project from idea to reality," Alex said. "We've spent countless evenings playing and tweaking the game and it has been so enjoyable every time. We each got to do what we excel in through this process and we couldn't have asked for a better experience. We hope everyone who plays it can have as much fun with it as we have."
Learn more about Intel on the group's Kickstarter presentation.