Writing Tutors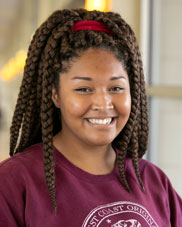 Ebony Butler
Sophomore, Digital Graphics and Design
I enjoy drawing, editing pictures and exploring new ways to create art; additionally, I enjoy reading, writing and exploring underlying themes in films and books. Other than the things I do in my down time, I love to workout and I am a thrower for the track team — so, whether it is on campus or on the road, I am more than happy to help! I think writing is important in not only college courses, but also effectively communicating your ideas throughout everyday life. The writing process is hard enough as it is, come down to The Writing Center and let us help you get it just right!
Max Craft
Senior, communication major
Greetings! Writing is a key ingredient towards success in work, home and life, at large. That's why I love it! It allows us to uninterruptedly praise, communicate, edify and warn in ways otherwise unfeasible. Writing isn't the only thing I like to do, however. I love theology, philosophy, classic literature and deep, scholarly conversations with people about God, life and ideas. Plus, I play the bagpipes. I would love to get to know you, so come see me!
If you would like to make an appointment with Max outside regular walk-in or regularly scheduled hours, email him at MHCraft01@indianatech.net.
Rachel Maxwell
Senior, criminal justice major
Hi. Several of my hobbies involve creating things, such as drawing and writing, but I also enjoy riding horses—the faster the better. Another thing I love to do is read. I love reading because it gives me the chance to be a part of someone else's reality or hear their unique ideas. I enjoy writing for the same reason; when I'm writing I get a chance to share my reality and my thoughts with others in a way that only writing allows. My goal as a tutor is to help others share their reality and ideas with the world, and if you stop by the writing center, that's what I'll help you do.
If you would like to make an appointment with Rachel outside regular walk-in or regularly scheduled hours, email her at RAMaxwell01@indianatech.net.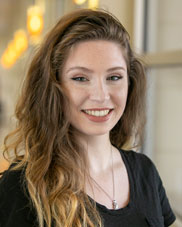 Jessica Miller
Junior, accounting and business administration – management major
My majors might not reflect a career path of extensive writing, but I find that having a desire to write and prepare ideas on a page in a way that truly reflects what a student, hobbyist, or professional wishes to express is stupendous, no matter the occasion. I enjoy researching data and facts that will allow me to create works worth considering for whomever my audience may be. In addition to writing, I enjoy organizing anything and everything that I can, including Society of Future Accountant (SoFA) meetings which are great for business majors, as well as anybody wanting to gain knowledge about an accountant's world post-graduation. So, whatever your desire to write may be, whether for class or even for your own interest, I'd love to take a look!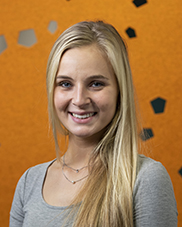 Kayla Saffran
Junior, elementary education major
I am a forward on the women's soccer team. Other than playing soccer, I like to watch movies and go to the beach. I also love to read. Being able to escape into someone else's story and connect to the words they write is something that I admire about every book I read. Reading is also a great way to learn more about writing; I like seeing how authors write so I can use some of their techniques in my own writing. Writing can be overwhelming, messy and time-consuming, but that's the best part! For me, the process usually goes something like this: write, delete, rewrite, delete, delete, delete, rewrite, until finally, there is this beautifully organized, well-written, piece of writing that I poured my heart and soul into that makes it all worth it in the end. Most importantly, it's something I am proud of. I want you to feel confident in the work you turn in, so come see me and I can help you write something you are truly proud of!
If you would like to make an appointment with Kayla outside regular walk-in or regularly scheduled hours, email her at KMSaffran01@indianatech.net.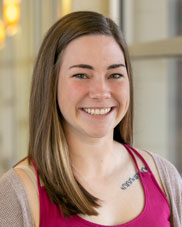 Allyson Versluys
Sophomore, Biomedical Engineering
Hi there! As an engineering major, I have some special experience dealing with technical forms of writing. However, the style of writing I enjoy the most is a literary analysis! I appreciate the depth of thought needed for this style of writing. I value the importance of everyone being able to effectively convey their ideas and opinions to the world; good ideas are nothing without the proper means to communicate them. Aside from being a writing tutor, I am a pitcher on the Indiana Tech softball team. My hobbies away from the softball field include music, concerts, and God. I'm excited to get to know you and your writing style, so don't hesitate to come down to the writing center and see me!
Nina Vietze
Freshman, Biomedical Engineering
I am pursuing a biomedical engineering degree because I love working with my hands and I find the human body extraordinary! Truthfully, writing class used to be my least favorite course in middle school and throughout most of high school. But towards the end of my high school career, writing classes became much less stressful because I was able to figure out my writing process. Just like everyone studies or learns differently, everyone writes differently. Bursts of inspiration can come from exercise, contemplative showers, or even simply rereading your writing after a few days of not looking at it. Starting at a body paragraph instead of the introduction might make your writing flow better in the end. My goal as a writing tutor is to support my fellow writers in discovering their own writing process to help them gain confidence in their own work. Come see me and we can make writing anxiety a thing of the past!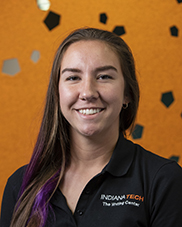 Christina Wynn
Junior, communication major
In addition to being a communication major, I am a goalkeeper for the women's soccer. My favorite thing to do is travel and experience new ways of thinking and living. Expanding my knowledge on different cultures and ways of life enables me to broaden my horizon and knowledge of the world we all live in. I enjoy writing as a form of self-expression or art. Enabling someone to share their thoughts on paper is empowering to me. Working in a place where I can help others create something of their own, and something to be proud of, makes me feel satisfied at the end of my day. Come see me and we can create something great together!
If you would like to make an appointment with Christina outside regular walk-in or regularly scheduled hours, email her at CRWynn01@indianatech.net.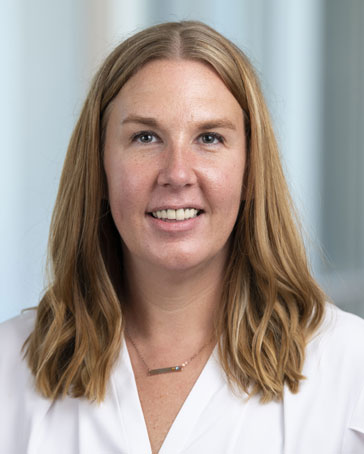 Associate Professor of English
I have been with Indiana Tech since 2007, teaching both composition and humanities courses. I have two sons, Holden and Jack, and am finishing my doctoral degree, all of which keep me busy. Because writing is so individual, I value working with students one-on-one to improve their writing (and reading and thinking) skills.
Professor Robbins tutors master's students only. To schedule an appointment with her, email her at CRRobbins@indianatech.edu.
Linda Valley
Assistant Professor of Rhetoric and Composition
Hi! I'm a composition professor here at Indiana Tech and I also direct the Writing Center. Writing is a messy and intimidating process and I love that the Writing Center is here to give us feedback, to be our audience and to be that extra set of eyes. Come talk with me about our services or about your needs as a writer. I'd love to help.
Professor Valley is the director of Indiana Tech's Writing Center. If you have questions about the Writing Center, email her at LMValley@indianatech.edu.