Writing Tutors
For Undergraduate Students
Undergraduate students, in both the traditional and College of Professional Studies learning environments, are assisted by the following tutors: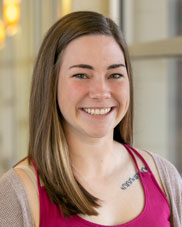 Allyson Versluys
Sophomore, biomedical engineering major
Hi there! As an engineering major, I have some special experience dealing with technical forms of writing. However, the style of writing I enjoy the most is a literary analysis! I appreciate the depth of thought needed for this style of writing. I value the importance of everyone being able to effectively convey their ideas and opinions to the world; good ideas are nothing without the proper means to communicate them. Aside from being a writing tutor, I am a pitcher on the Indiana Tech softball team. My hobbies away from the softball field include music, concerts, and God. I'm excited to get to know you and your writing style, so don't hesitate to come down to the writing center and see me!
If you would like to make an appointment with Allyson outside regular walk-in or regularly scheduled hours, email her at Aeversluys01@​indianatech.​net.
For Master's Students
Master's students are assisted by:
Dr. Jonathan Brownlee
Assistant Professor of Rhetoric and Composition
Hello! My name is Dr. Brownlee, and I am the assistant director of the Writing Center. I also teach composition, creative writing and philosophy here at Tech. I believe in the mission of the Writing Center, and I think that one of the best things a person can do to get better at writing is to seek honest and encouraging feedback. You will find that valuable feedback, as well as other helpful resources, here at the Writing Center. Come see us!
Professor Brownlee is the assistant director of Indiana Tech's Writing Center. If you have questions about the Writing Center, email him at JJBrownlee@indianatech.edu.
Dr. Cortney Robbins
Associate Professor of English
I have been with Indiana Tech since 2007, teaching both composition and humanities courses. I have two sons, Holden and Jack, and am finishing my doctoral degree, all of which keep me busy. Because writing is so individual, I value working with students one-on-one to improve their writing (and reading and thinking) skills.
Professor Robbins tutors master's students only. To schedule an appointment with her, email her at CRRobbins@indianatech.edu.
Director of the Writing Center
Linda Valley
Assistant Professor of Rhetoric and Composition
Hi! I'm a composition professor here at Indiana Tech and I also direct the Writing Center. Writing is a messy and intimidating process and I love that the Writing Center is here to give us feedback, to be our audience and to be that extra set of eyes. Come talk with me about our services or about your needs as a writer. I'd love to help.
Professor Valley is the director of Indiana Tech's Writing Center. If you have questions about the Writing Center, email her at LMValley@indianatech.edu.