Crisis Resources
Symptoms of a Mental Health Crisis
Difficulty functioning in everyday life (e.g. doing daily tasks like brushing teeth or showering, becomes impossible to get out of bed, inability to attend class or work)
Intense or sudden changes in mode
Hallucinations or delusions
Paranoia
Feelings of intense anger or violent behavior
Suicidal thoughts or making plans
Self harming or self-medicating
Thoughts of harming others
Isolating or withdrawing from others
Feelings of hopelessness
When living with a mental health condition, these may already seem normal. However, these behaviors become a crisis or begin to approach a crisis when these behaviors are not your norm.
Mental Health Crisis Resources:
Wellness Clinic
Hours: M-F 8:30-5:00
*Hours vary during breaks*
Location: Andorfer Commons, Student Affairs
Phone: 260-266-8060
Email: counseling@indianatech.edu
ER
Parkview: 2200 Randallia Dr
Lutheran: 702 Van Buren St
Campus Security
Location: Andorfer Commons, 144
Direct Line: 260-399-2805
Mobile: 260-740-6642
Intercampus: Ext 2230
Email: security@indianatech.edu
Parkview Crisis Line
260-471-9440
Fort Wayne Police
Non-emergency: 260-427-1222
Emergency: 911
*Ask for a CIT officer*
Crisis Lines
Suicide & Crisis: 988
Veterans Crisis Line: 988 (Press 1)
Trevor Project Hotline (LGBTQ):
Call: 1-866-488-7386
Text: 678678
Trans Lifeline: 1-877-565-8860
Domestic Violence: 1-800-799-7233
Crisis Text Line: 741741
---
How to help someone when in crisis?
Stay calm. Speak in a calm, low voice. Move slowly.
Listen. Listening is key to helping someone through a crisis. Actively listen to what they are saying to fully understand their situation and symptoms.
Ask how you can help. Everyone receives support in different ways. You can ask "how can I best support you?" "what do you need in this moment?" "can I help you call for help?"
Offer options. Some people might feel overwhelmed if they lose control of the situation. Providing someone with options will allow them to express what they need most and feel more in control of themselves. You can ask "do you want me to call the counseling center or do you want to walk with me to the counseling center?" "do you want to sit or lay down?" "do you want to take a walk or listen to music?"
Give them space. It can be instinct to hug or embrace a person in crisis. Some people might feel trapped or over stimulated by this. Instead just ask them "can I hug you?" "can I sit next to you?"
Ask if they have a crisis plan. Some people, especially when in treatment, might have a crisis plan. Ask if the person has a crisis plan and if you can see it. This will help you know what they need during the crisis.
---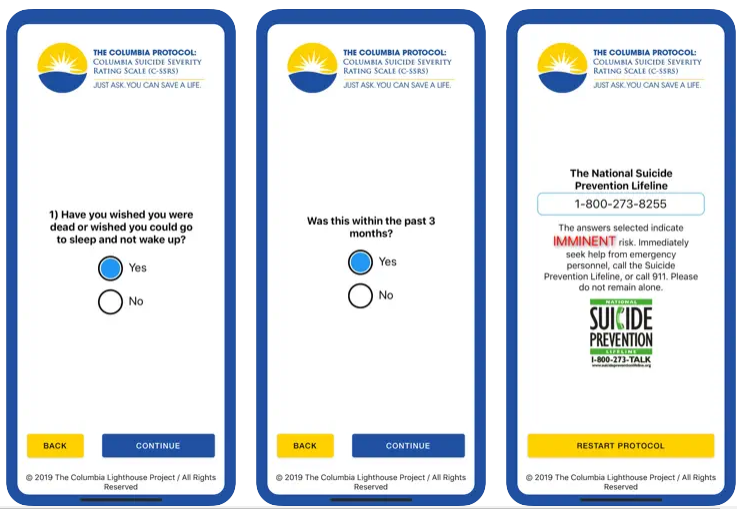 Columbia Suicide Severity Rating Scale App
The Columbia Suicide Severity Rating Scale (CSSRS) is a common tool used to asses suicide risk and determine the level of care needed.
You can now download the free app to have access to this tool wherever and whenever you need!
You will be guided through the questions to ask someone who is expressing suicidal thoughts. At the end, you will be given guidance on if you should contact a hotline/CIT police officer or help them get connected to counseling.
---
Lethal Means Safety
When someone is experiencing suicidal ideation or thoughts of self-harm, it's important to make sure they're safe but also the environment is safe. Ensuring the person does not have access to lethal means is crucial in a crisis situation. For more information on how to talk to someone about their access to lethal means please visit the Educational Fund to Stop Gun Violence website. You can also take an online course from Zero Suicide to be trained in these techniques.
Indiana Tech recognizes the importance of making an environment safe for those who live with mental health concerns. If you or anyone you know has access to lethal means and may present symptoms of mental health illnesses or suicidal ideation you can obtain a free firearm lock courtesy of the Fort Wayne VA. To request a lock email Jozy Garrison at JAGarrison@indianatech.edu, visit campus security, or stop by the Indiana Tech Military/Veterans office located in Abbott.
To learn more about proper firearm safety and suicide prevention visit the VA website.
*As a reminder, firearms are not permitted to be anywhere on campus. This information is strictly for suicide prevention purposes.*